Coronavirus Information
COVID Update 9/2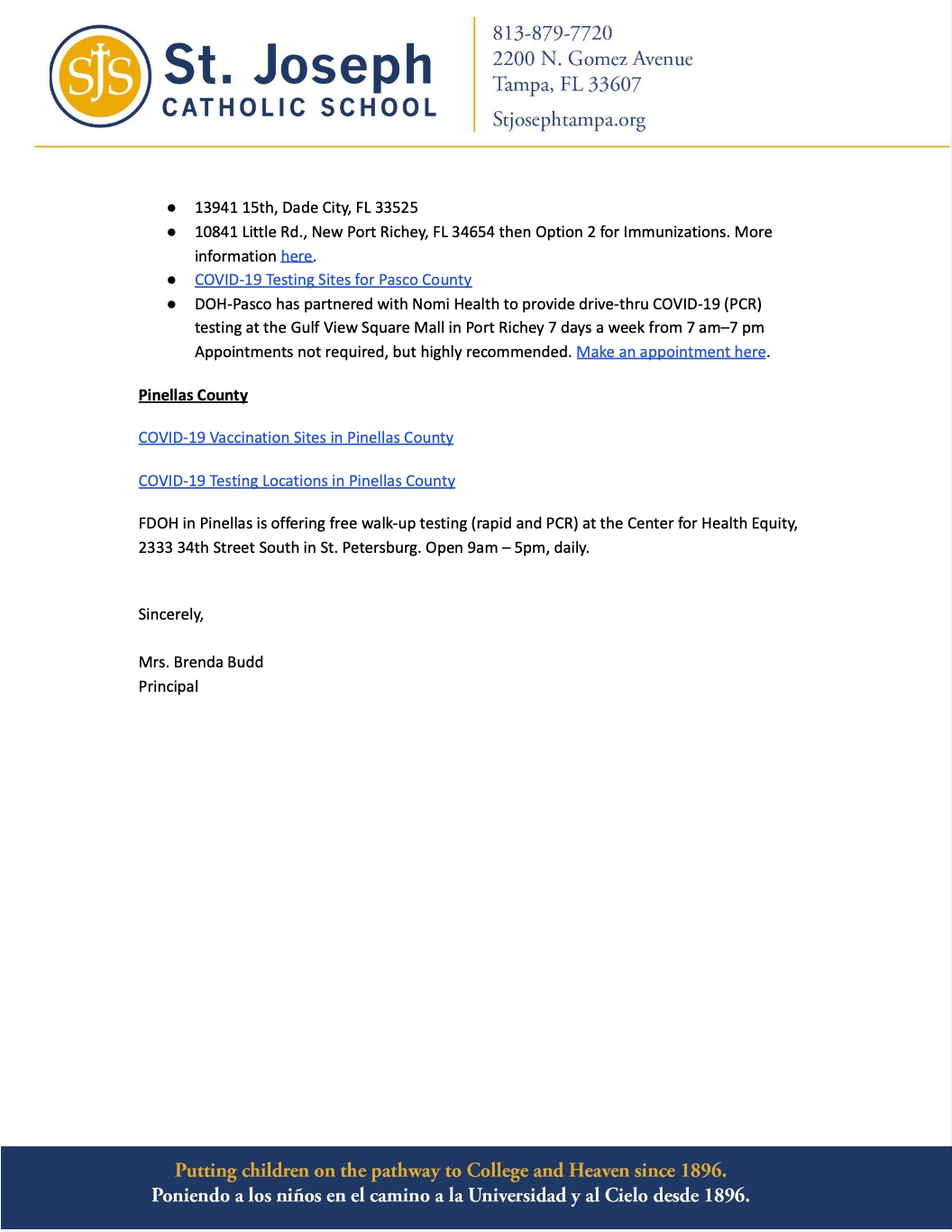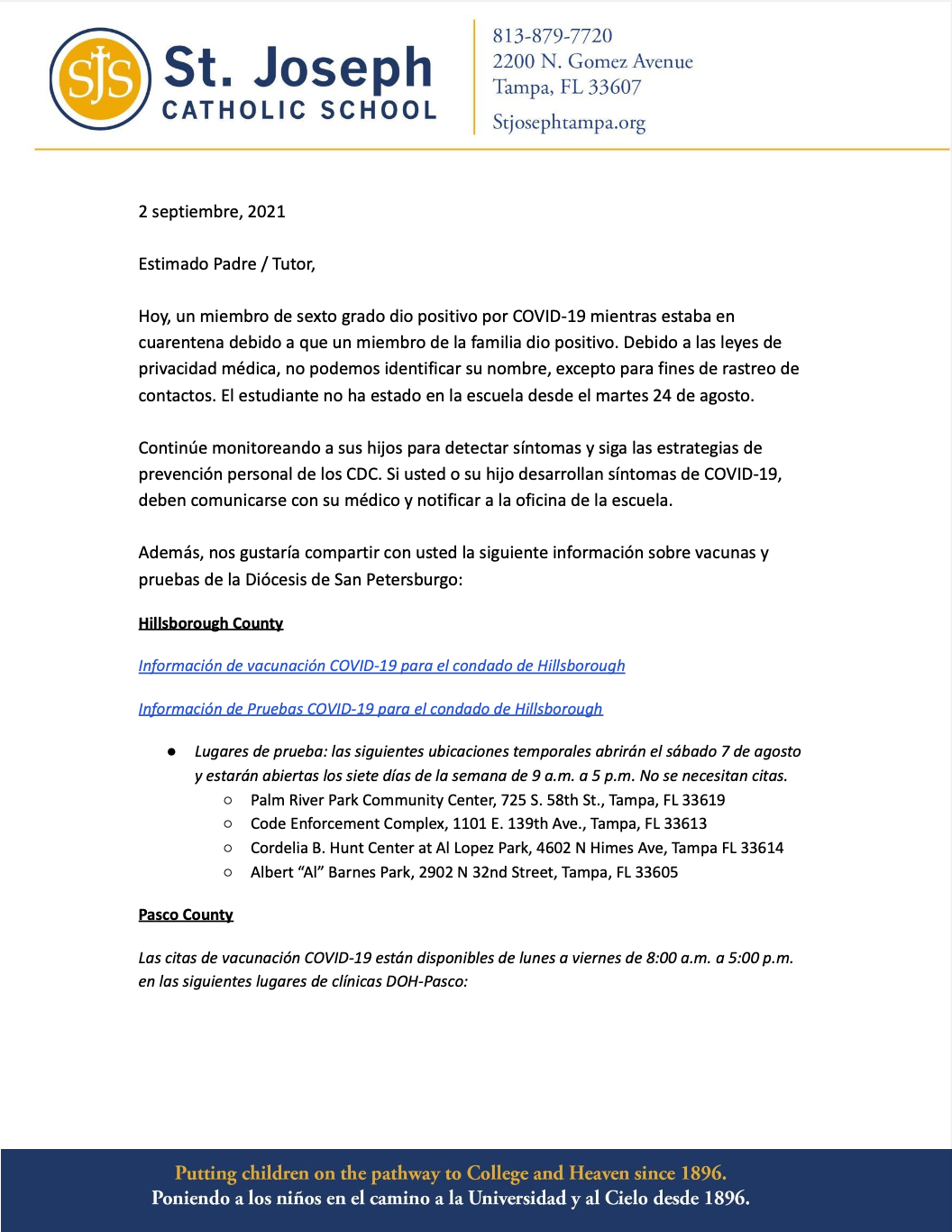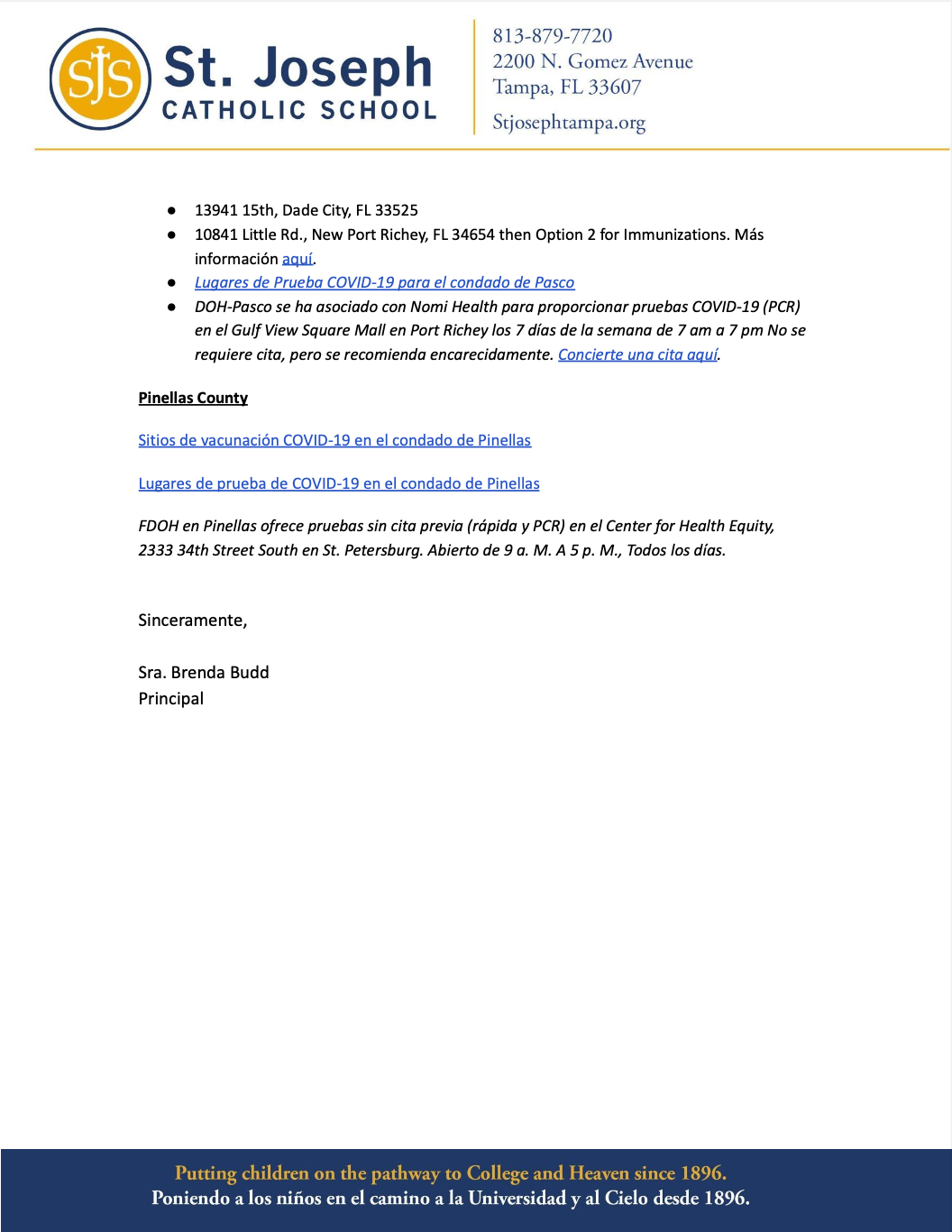 Diocesan Testing and Vaccination Sites
Diocese of St. Petersburg Covid-19 Testing and Vaccination Sites (as of 8.25.21)
Diócesis de San Petersburgo Lugares de Prueba y Vacunación Covid-19 (a partir del 8.25.21)
Hillsborough County
COVID-19 Vaccination Info for Hillsborough County / Información de vacunación COVID-19 para el condado de Hillsborough
COVID-19 Testing Info for Hillsborough County / Información de Pruebas COVID-19 para el condado de Hillsborough
Testing Locations: The following temporary locations will open on Saturday, Aug. 7 and will be open seven days a week from 9 a.m. – 5 p.m. No appointments needed.
Lugares de prueba: las siguientes ubicaciones temporales abrirán el sábado 7 de agosto y estarán abiertas los siete días de la semana de 9 a.m. a 5 p.m. No se necesitan citas.

Palm River Park Community Center, 725 S. 58th St., Tampa, FL 33619
Code Enforcement Complex, 1101 E. 139th Ave., Tampa, FL 33613
Cordelia B. Hunt Center at Al Lopez Park, 4602 N Himes Ave, Tampa FL 33614
Albert "Al" Barnes Park, 2902 N 32nd Street, Tampa, FL 33605
Pasco County
COVID-19 vaccination appointments are available Monday through Friday from 8:00 a.m. – 5:00 p.m. at the following DOH-Pasco clinic locations:
Las citas de vacunación COVID-19 están disponibles de lunes a viernes de 8:00 a.m. a 5:00 p.m. en las siguientes lugares de clínicas DOH-Pasco:
13941 15th, Dade City, FL 33525
10841 Little Rd., New Port Richey, FL 34654 then Option 2 for Immunizations. More information here. Más información aquí.
DOH-Pasco has partnered with Nomi Health to provide drive-thru COVID-19 (PCR) testing at the Gulf View Square Mall in Port Richey 7 days a week from 7 am–7 pm Appointments not required, but highly recommended. Make an appointment here.
DOH-Pasco se ha asociado con Nomi Health para proporcionar pruebas COVID-19 (PCR) en el Gulf View Square Mall en Port Richey los 7 días de la semana de 7 am a 7 pm No se requiere cita, pero se recomienda encarecidamente. Concierte una cita aquí.
Pinellas County
COVID-19 Vaccination Sites in Pinellas County / Sitios de vacunación COVID-19 en el condado de Pinellas
COVID-19 Testing Locations in Pinellas County / Lugares de prueba de COVID-19 en el condado de Pinellas
FDOH in Pinellas is offering free walk-up testing (rapid and PCR) at the Center for Health Equity, 2333 34th Street South in St. Petersburg. Open 9am – 5pm, daily.
FDOH en Pinellas ofrece pruebas sin cita previa (rápida y PCR) en el Center for Health Equity, 2333 34th Street South en St. Petersburg. Abierto de 9 a. M. A 5 p. M., Todos los días.
Citrus County
COVID-19 Vaccination available at the Lecanto Health Department on specific days in Au-gust.
Click here for the full schedule and details.
Langley Health Services– To schedule an appointment for vaccine or testing, please call 352-419-5760 EXT: 4818. More information HERE.
Additional Testing Locations:
Brashear's Pharmacy (Inverness Only) - Rapid antigen testing, no appt needed
G & R Pharmacy—Rapid test, appt needed, 352-527-3111
Quick Care Med—Rapid and PCR test, appointment needed
Citrus Care Clinic in Crystal River, 352-794-6385
B&W Rexall Drugs in Inverness, 352-726-1021
Hernando County
Vaccine - Use Florida Vaccine Locator.
Testing - COVID-19 Testing Sites in Hernando County
Get tested at the Hernando County Fairgrounds, 6436 Broad Street in Brooksville.
Appointments recommended (not required). 7am—7pm daily.
COVID Diocese 8/26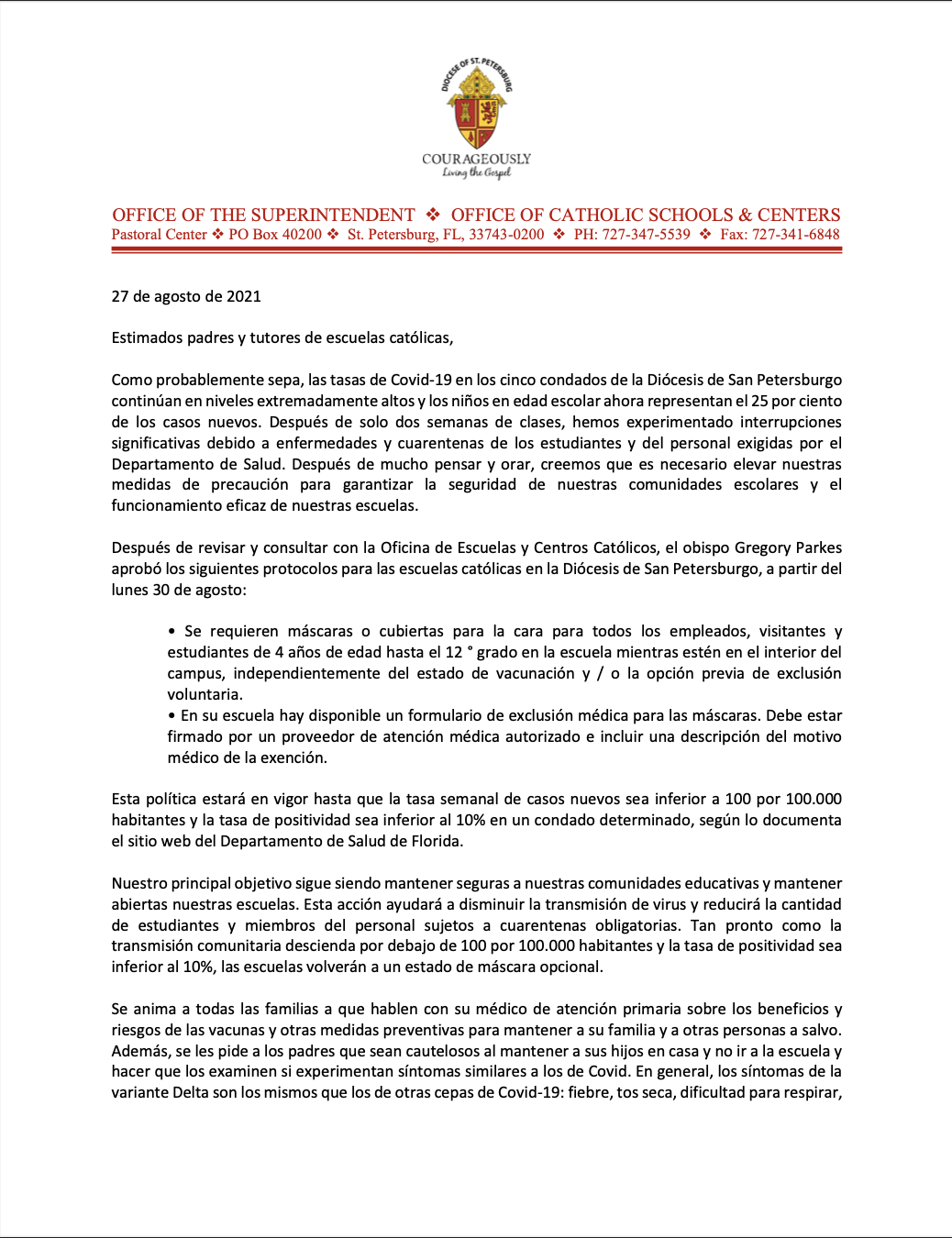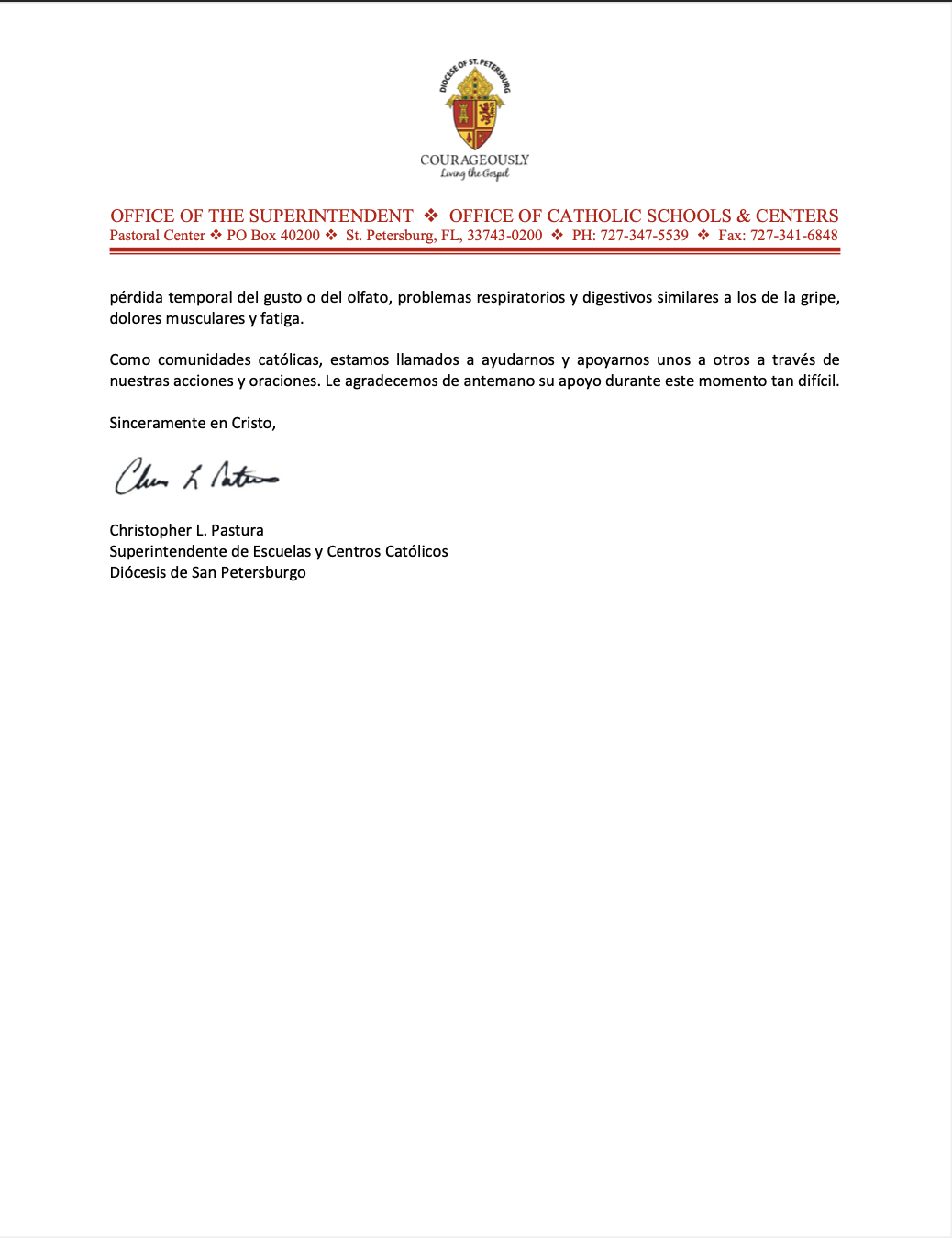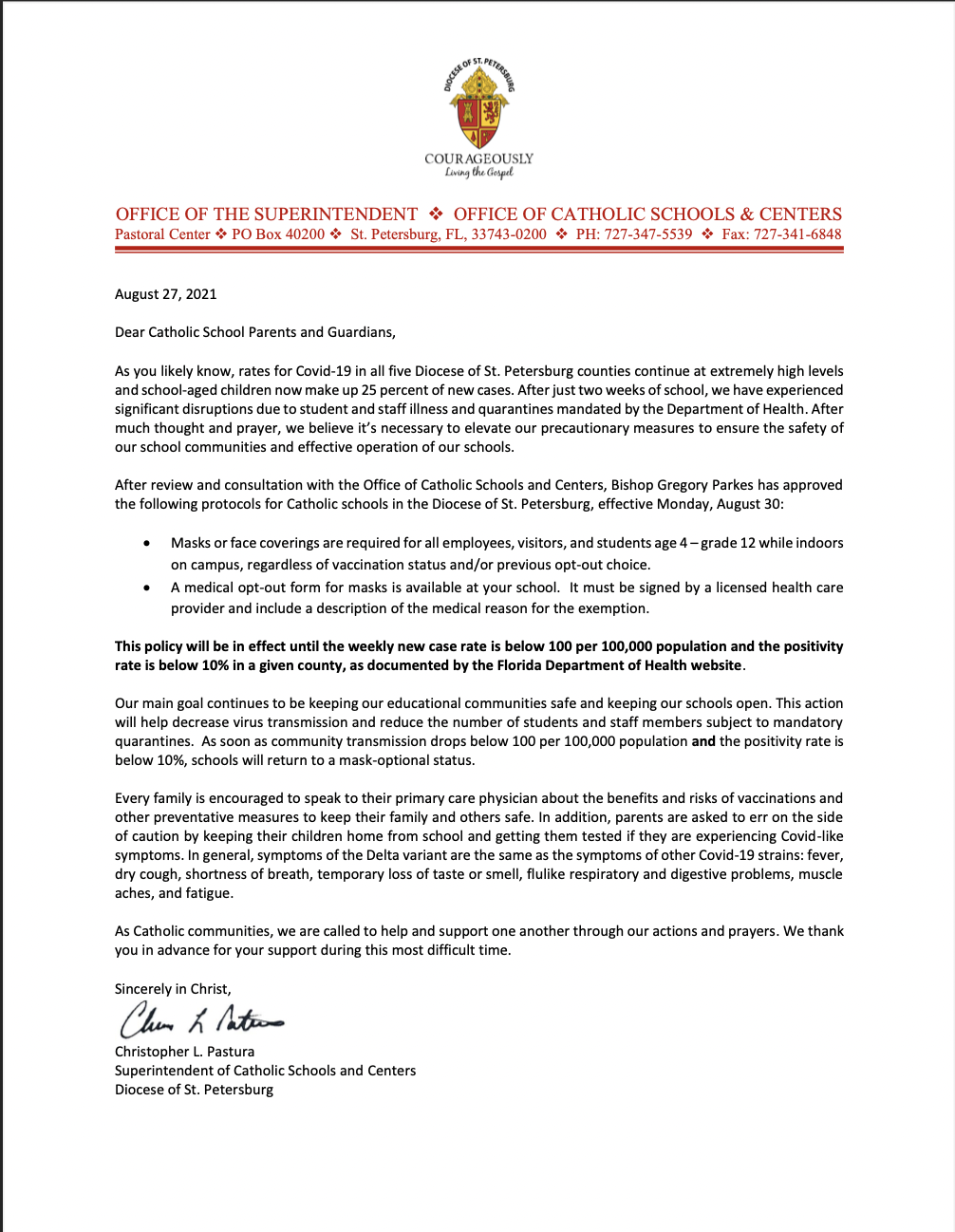 COVID Update 8/25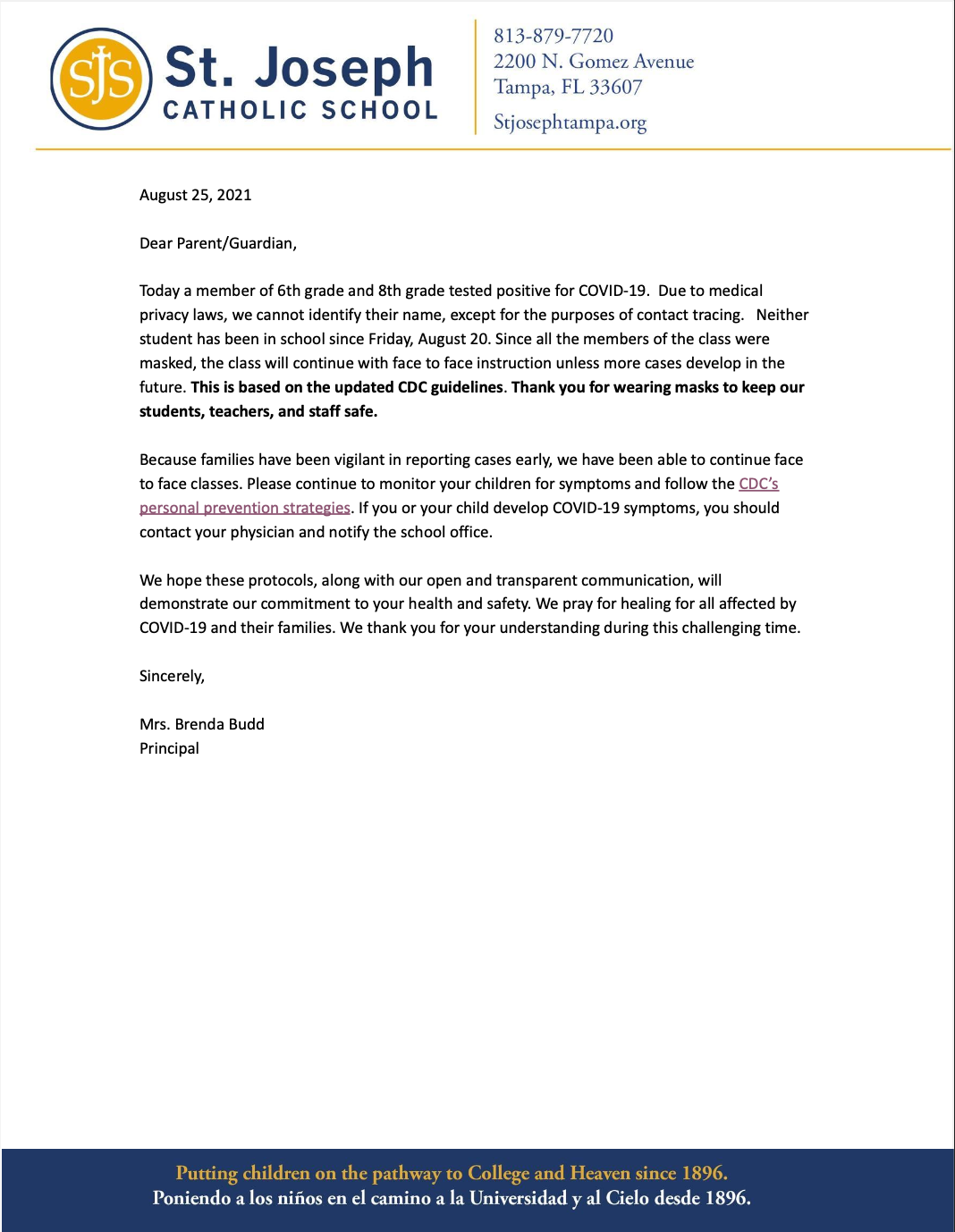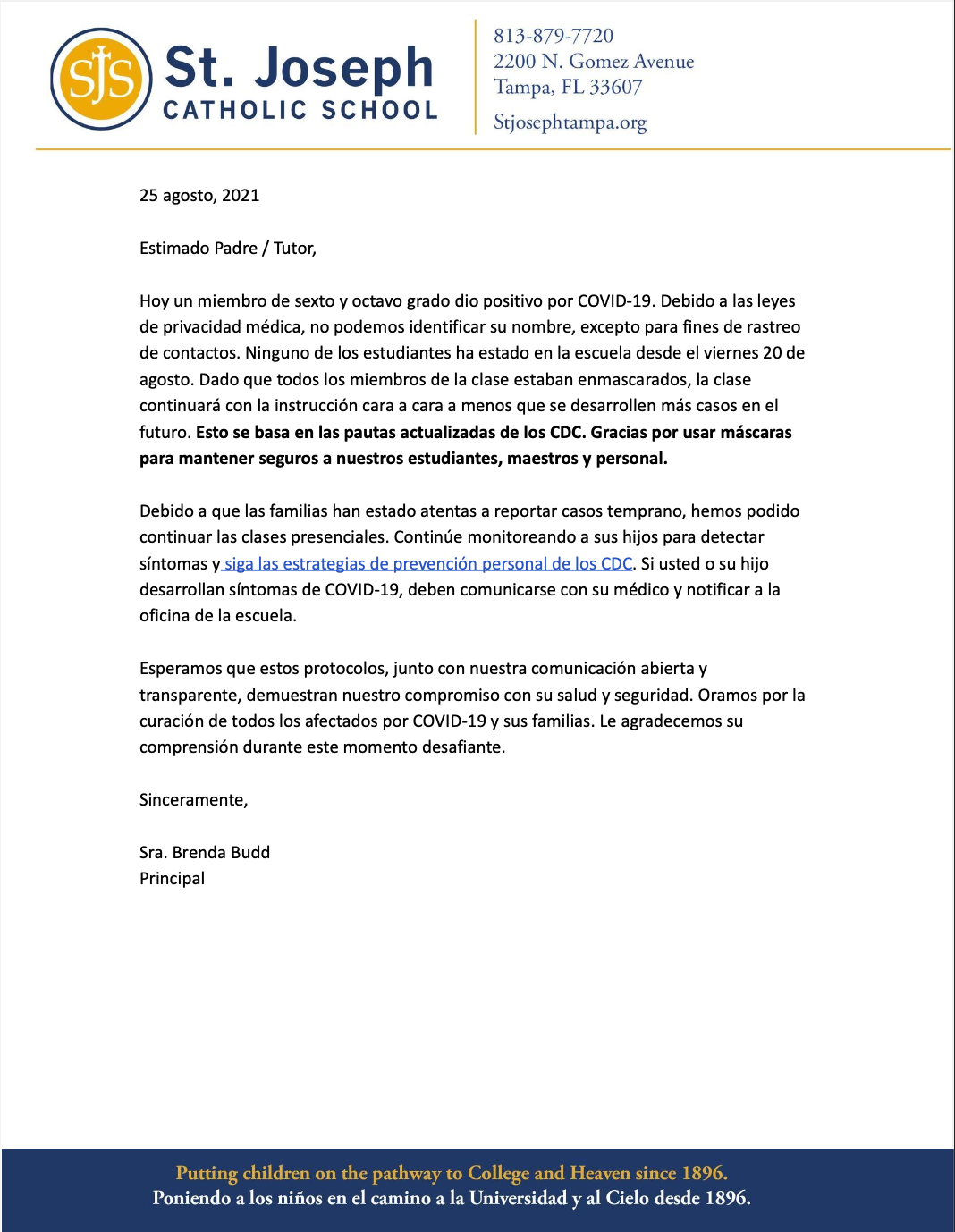 COVID Update 8/23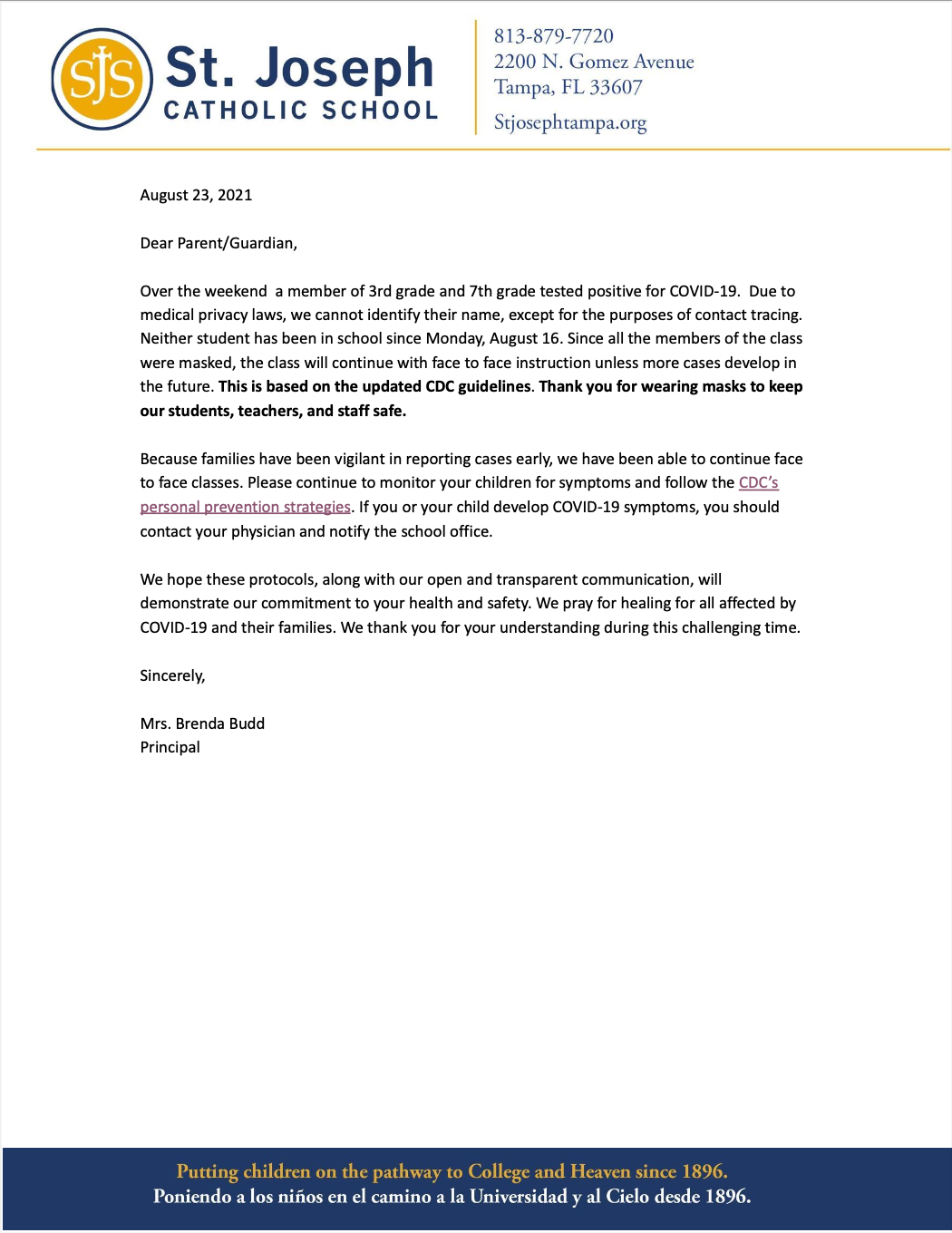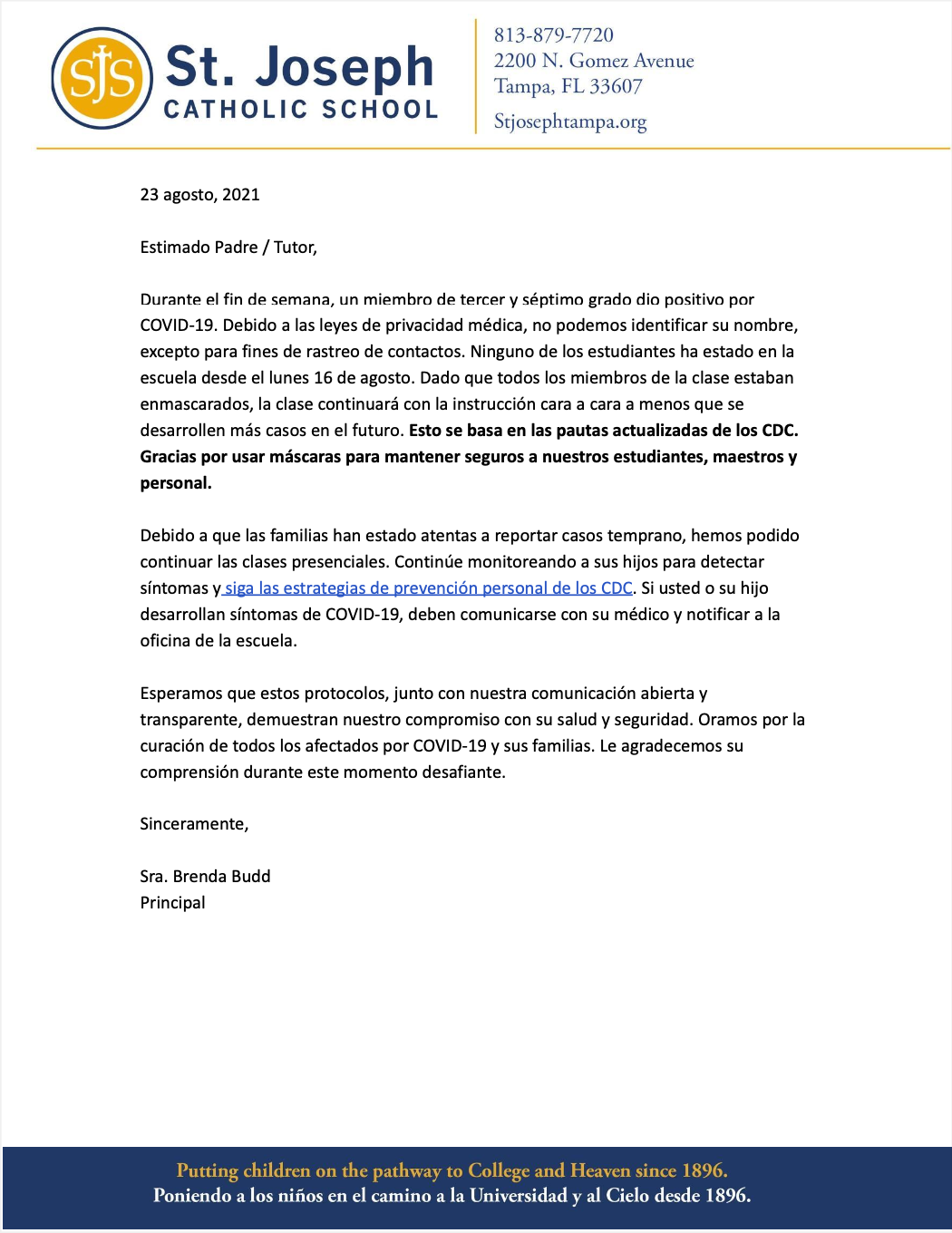 Parent Meeting Cancelled
August 12, 2021
Dear Parent/Guardian,
Due to the high rate of COVID-19 transmission in the West Tampa area, we have decided to cancel the upcoming parent night on August 19. You may connect with your child's teacher via Remind or email if you would like to communicate with them. We hope we can have more family involvement in the future when covid numbers drop.
You and your family are in my prayers.
God's blessings,
Mrs. Brenda Budd
Principal
12 de agosto de 2021
Estimado Padre / Tutor,
Debido a la alta tasa de transmisión de COVID-19 en el área de West Tampa, hemos decidido cancelar la próxima noche de padres el 19 de agosto. Puede comunicarse con el maestro de su hijo a través de Remind o correo electrónico si desea comunicarse con ellos. Esperamos poder tener más participación familiar en el futuro cuando disminuyan los números de covid.
Usted y su familia están en mis oraciones.
Bendiciones de Dios,
Sra. Brenda Budd
Principal
COVID Update 8/12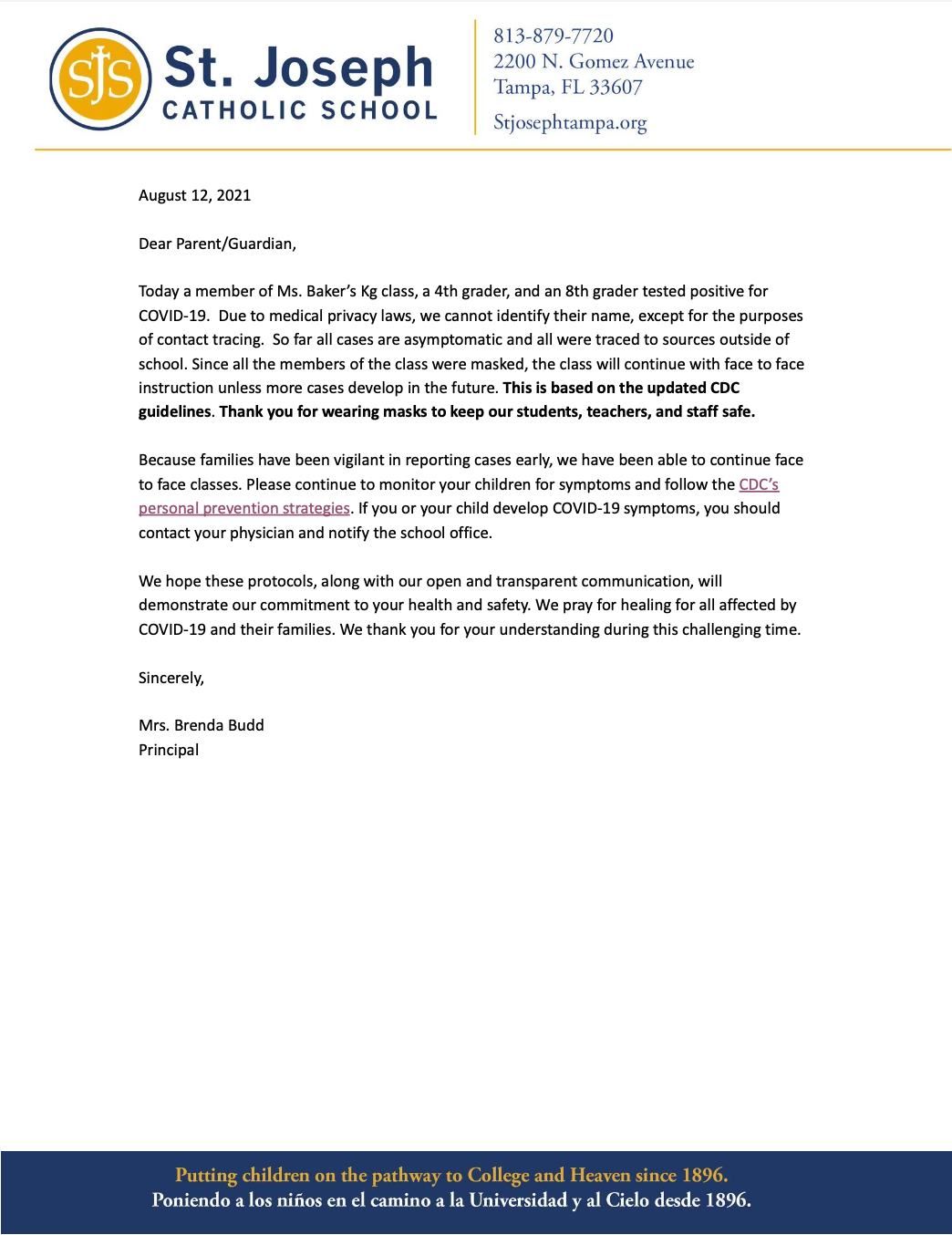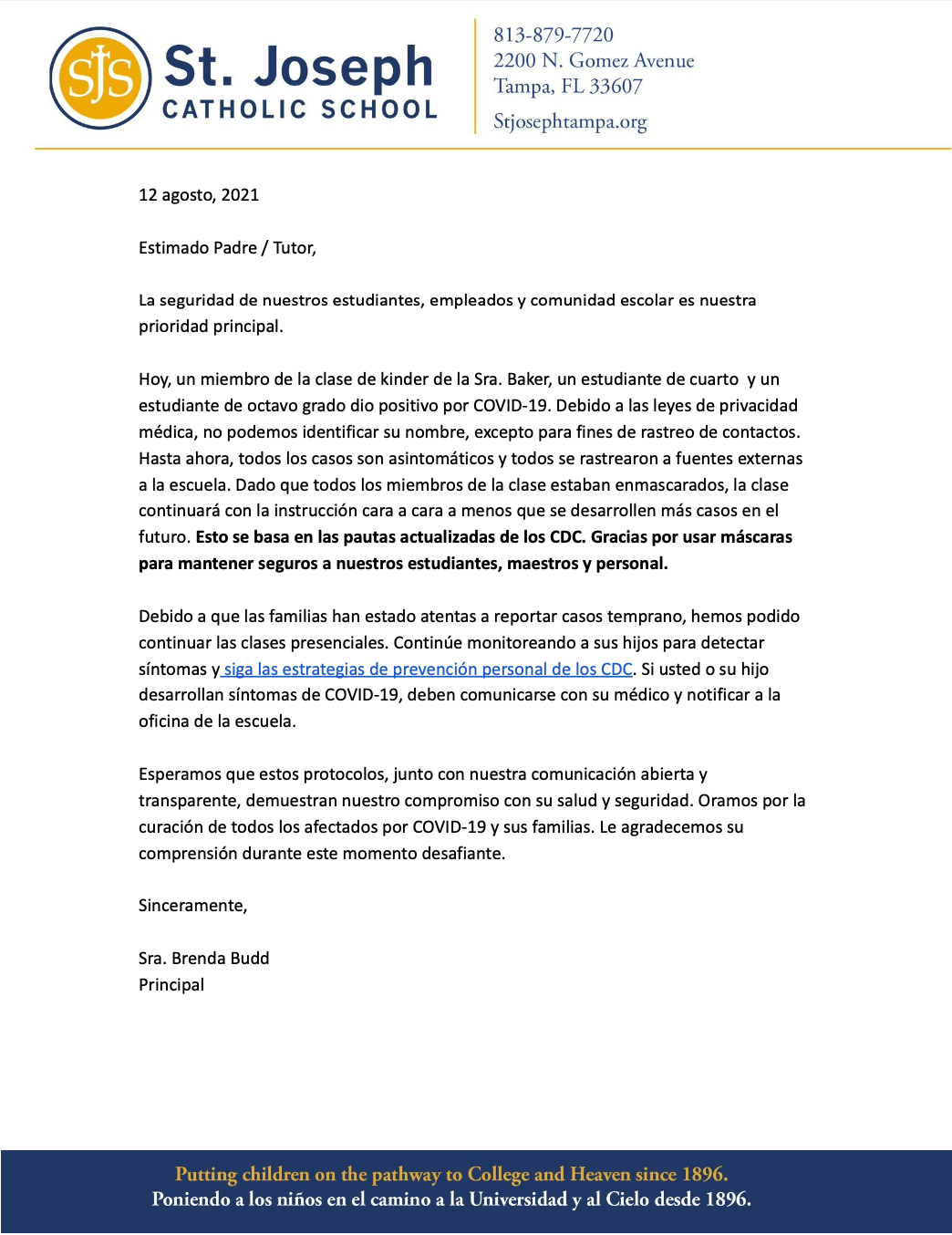 COVID Update 8/11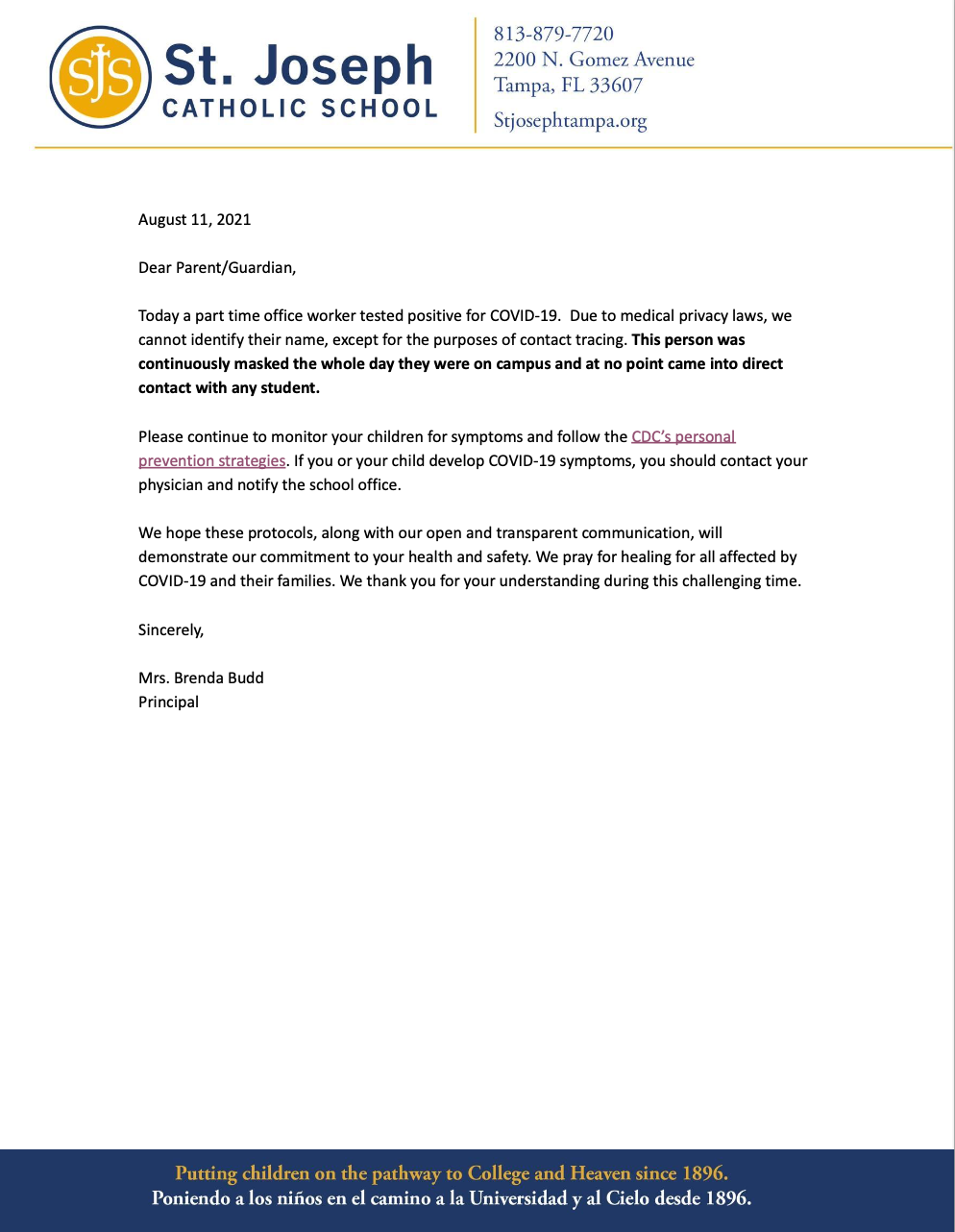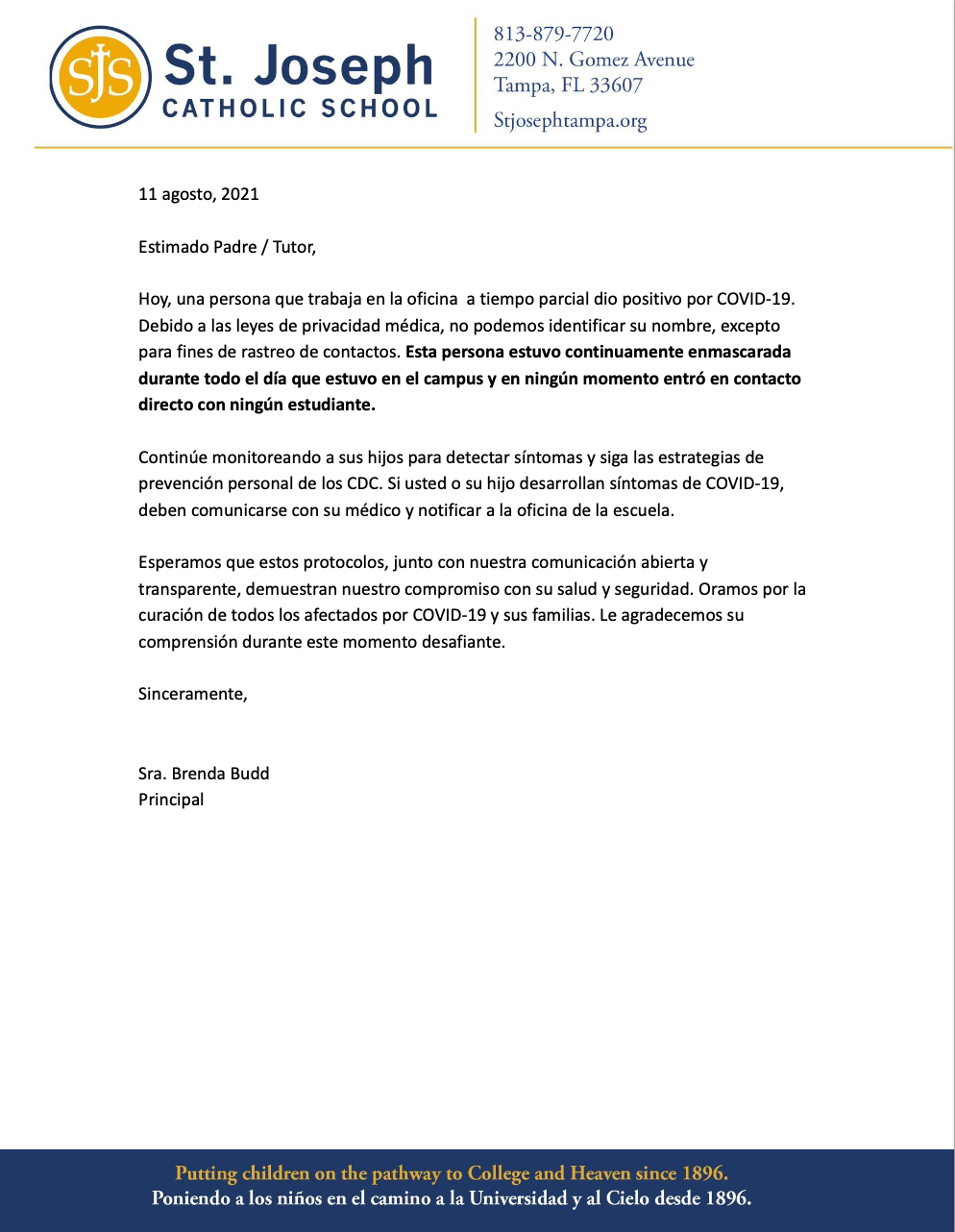 COVID Update 1st 8/10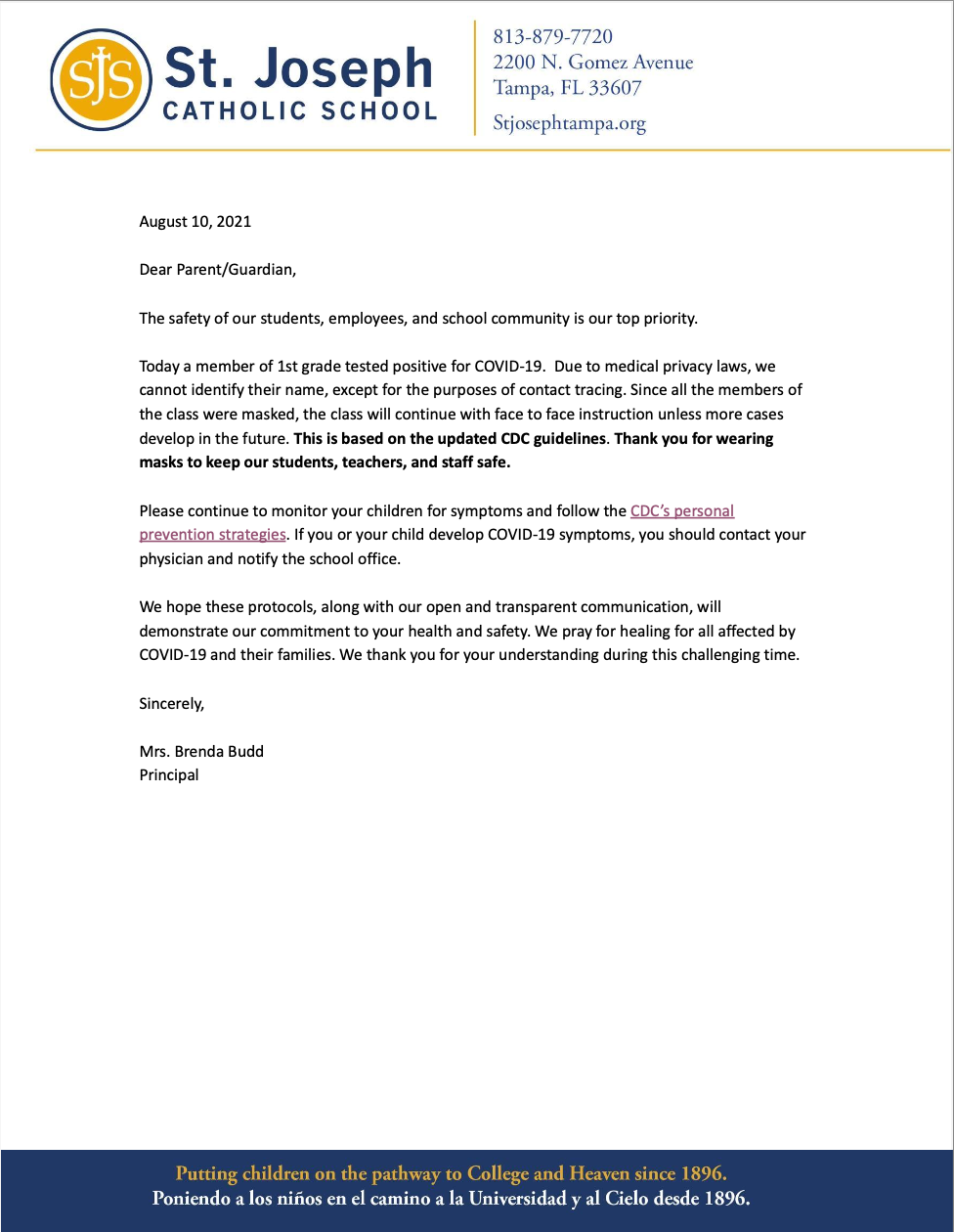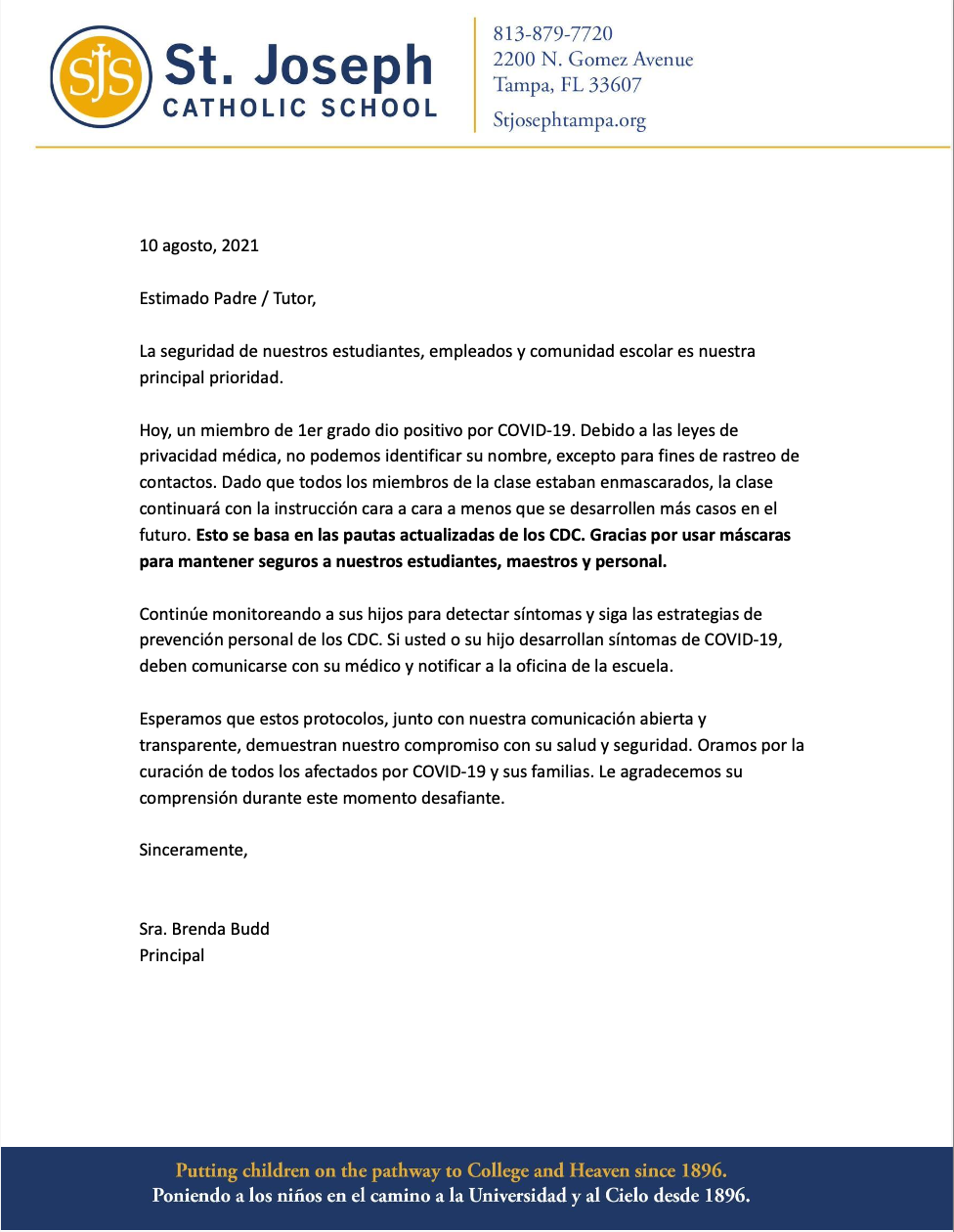 COVID Update 8/10