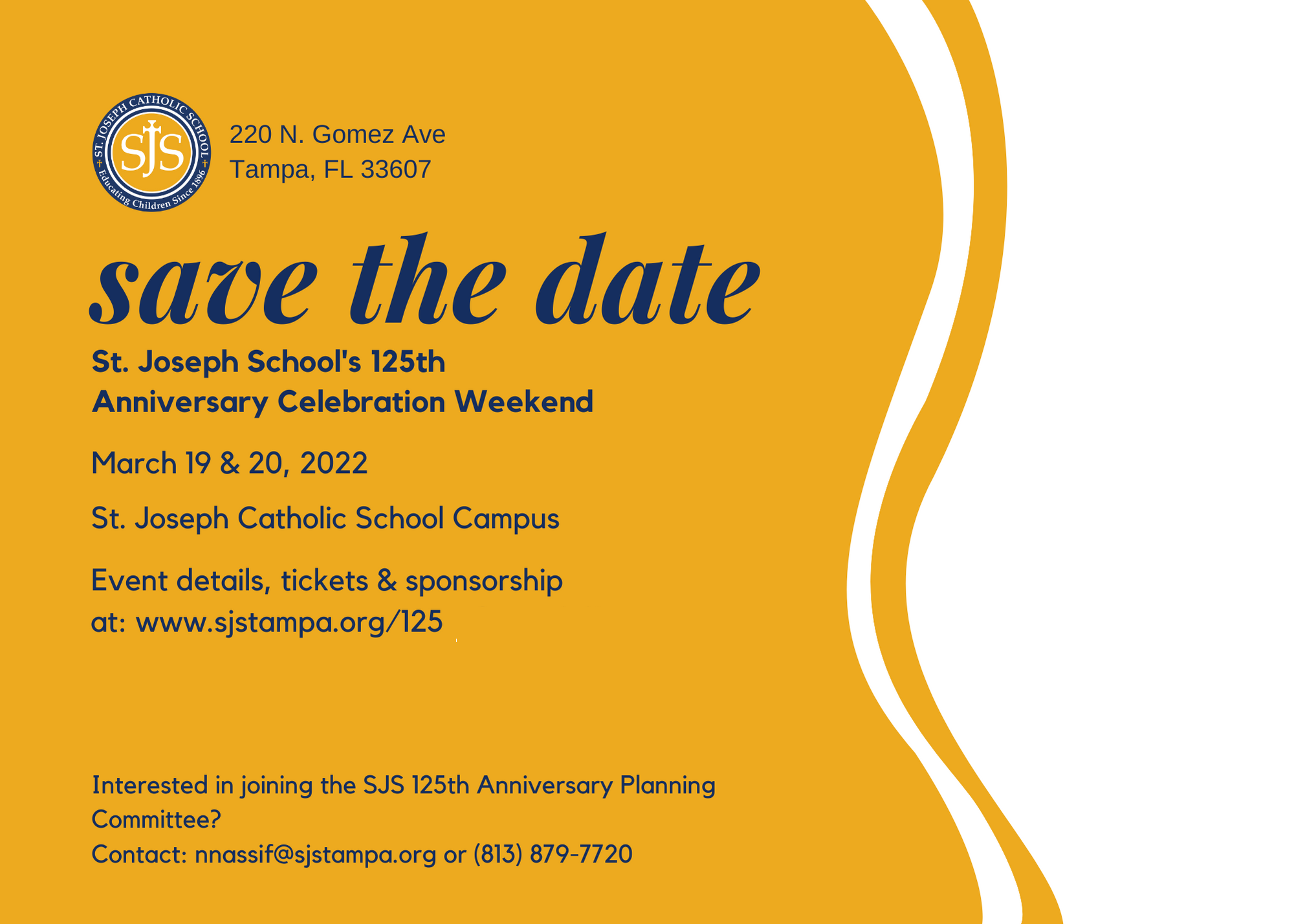 Preparations are underway for St. Joseph Catholic School's 125th Anniversary Celebartion Weekend
Saturday and Sunday, March 19-20, 2022 at St. Joseph Catholic School Campus

We need your help for planning a successful weekend!
Please review our "Wish List" to see if you can assist our 125th Anniversary Committee with exciting item. To donate an item or service, please complete the Silent Auction/Raffle Form below and send (or hand deliver) to:
Attn: Nicole Capitano Nassif
St. Joseph Catholic School
2200 N. Gomez Ave.
Tampa, FL 33607
GIFT CARDS: restaurants, retail stores, and more

EVENT TICKETS: sporting events, concerts, theatre

JEWELRY: fine jewelry, costume jewelry, hand crafted jewelry

HEALTH and BEAUTY: salon experience, nail service, massage, yoga, pilates, spinning, athletic memberships, personal trainer and more

GOLF: golf outings, golf bags, clubs, accessories

MEMORABILIA: autographed, military-related and collector's items

ELECTRONICS: cameras, i-pods, i-pads, game systems/accessories

GETAWAYS: spa packages, sunset boat rides, vacation homes, hotel/resort packages, theme parks

CELEBRITY CONNECTIONS: can you provide lunch or dinner, golf or other interaction with a celebrity?

THEMED ITEMS: holiday, beach, baby, collegiate or professional teams, and more
DONATIONS MUST BE RECEIVED BY FRIDAY, FEBRUARY 25, 2022
---
Sponsorship and Ticket Information Coming Soon!