Back to School
Details

Published: Friday, 02 June 2017 11:27
Written by Administrator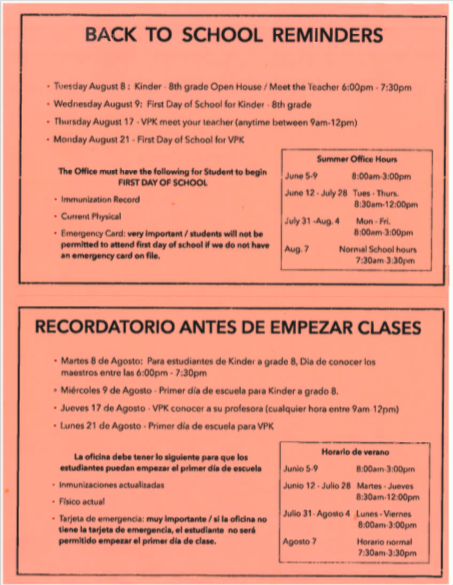 Summer Reading Books Available
Details

Published: Tuesday, 25 April 2017 14:09
Written by Administrator
Summer reading books for the 2017/18 school year are now available for purchase from Ms. Piccari in the library.
You can access this as a Microsoft Document by clicking here.
Biscuit

by Alyssa Capucilli - $4.00
Biscuit

by Alyssa Capucilli - $4.00

Mud!

by Wendy Cheyette Lewison - $5.00
Henry and Mudge and the Big Sleepover

by Cynthia Rylant - $4.00

Amelia Bedelia Goes Wild!

by Peggy Parish - $4.00
Flat Stanley

by Jeff Brown - $3.00

Judy Moody was in a Bad Mood

by Megan McDonald - $5.00
George's Marvelous Medicine

by Roald Dahl - $7.00

Magic Finger

by Roald Dahl - $8.00
The Anybodies

by N.E. Bode - $8.00
Hatchet

by Gary Paulsen - $7.00
Bud, Not Buddy

by Christopher Paul Curtis - $6.00
In My Hands: Holocaust Rescuer

by Irene Gut Opdyke - $9.00
Parent-Teacher Conferences
Details

Published: Tuesday, 28 March 2017 14:02
Written by Administrator
This Friday, March 31, school will be dismissed at 12:00 noon and will be followed by parent-teacher conferences.
If you would like to sign up for a conference, follow the link below or contact your child's teacher to set up an appointment.
http://stjoseph.myteacherconferences.com/
TALENT ABOUNDS! Updated information about our talent show.
Details

Published: Wednesday, 22 March 2017 10:46
Written by Administrator
We are four weeks away from the annual St Joseph Talent Show, and the performers are polishing performances in preparation for the big day.
With so many acts lined up, this year's show promises to be the best we've ever had. In fact, we have scheduled a few extra minutes to fit everyone in.
Holy Thursday, April 13th, following mass, students will gather in the auditorium. The show begins at 945am to ensure that we are ready for an on time dismissal at noon.
What an exciting opportunity for our students to shine.
Mark your calendars:
Thursday, April 13th; 9:45am
Thank you for your continued support,
Lori Foley
Festa Italiana
Details

Published: Monday, 20 March 2017 17:04
Written by Administrator
We are excited to be partnering through the Friends of St. Joseph in the 20th Annual Fiesta Italiana on Sunday, April 9 in Ybor City at Centennial Park. The school office has limited tickets available for a drawing to win jewelry, free gasoline for a year or a Kia automobile. For every two tickets the family obtains as a $5 donation per ticket through the school, we will award one service hour. Tickets are available on request from the school office but supply is limited. Please return tickets by Friday, March 31 to be eligible for the drawing.
Volunteers needed:
April 8 – Set up 2pm-8pm
April 9 – Tear down 5pm-9pm
April 9 – Ticket takers 10am-6pm
http://www.festaitalianatampa.com/
Estamos entusiasmados con nuestra asociación a través de los amigos de San José en la 20ª fiesta anual italiana el domingo, 9 de Abril en Ybor City en el Centennial Park. La oficina de la escuela tiene una cantidad limitada de boletos disponibles para un sorteo de prendas, gasolina gratis por un año o un automóvil Kia. Por cada dos boletos obtenidos por una donación de $5 cada uno, la familia se le premiará con una hora de servicio. Los boletos están disponibles a petición en la oficina de la escuela, pero boletos disponibles son limitados. Por favor devolver los comprobantes obtenidos antes del viernes, 31 de marzo para ser elegible para el sorteo.
Se necesitan voluntarios:
8 de Abril - Armar 2pm-8pm
9 de Abril – Desarmar 5pm-9pm
9 de Abril – Recibidores de boletos
Lenten Renovations
Details

Published: Thursday, 09 March 2017 16:34
Written by Administrator
Lenten Campus Cleanup
If you are in need of parent service hours or would like to volunteer on campus, we are offering an opportunity to help on the following dates if you are interested
Saturday, March 4: 8:00am - 4:00pm
Sunday, March 5: 1:00pm - 4:00pm
Saturday, March 11: 8:00am - 4:00pm
Sunday, March 12: 1:00pm - 4:00pm
Open Enrollment
Details

Published: Monday, 27 February 2017 11:05
Written by Administrator
Today, March 1, we are opening enrollment 2017-18 school year to all interested famillies. If you know of any families that might be interested in enrolling next year, direct them to the following page:
http://www.stjosephtampa.org/admissions/registration-information
or contact Carlos Hernandez at to schedule a tour and to sign up for an entrance exam.
-------------------------------------------------------------------------------------------------------------------------------------------------------------------------------------------
Hoy, 1 de marzo, estamos abriendo el proceso de inscripción para el año 2017-18 a las familias interesadas. Si usted sabe de alguna familia que pueda estar interesada en inscribir a su hijo/a para el año que viene, favor de mostrarles la siguiente página:
http://www.stjosephtampa.org/admissions/registration-information
Amazon Smile
Details

Published: Tuesday, 14 February 2017 11:37
Written by Administrator
We are excited to announce that the Tampa Bay Notre Dame ACE Academies have set up an Amazon Smile account. Simply follow this link:
https://smile.amazon.com/ch/45-5027735
and when you make your regular purchases on Amazon, they will make a small donation to St. Joseph Catholic School!
For more information about the program, click the link below.
https://smile.amazon.com/gp/chpf/about/ref=smi_se_uspo_laas_aas
Thespian State Results
Details

Published: Monday, 13 February 2017 12:48
Written by Administrator
Hi folks! Well, another year is done as far as state is concerned. 5,000 people registered for the conference this year. Our team did well. Performances and presentations scoring excellent or superior received medals.
Yaniel: set design - good
JaDaya & Mariluz: improvisation - good
Jay and Matthew: improvisation - excellent
Gigi, Angelina, Mariluz
JaDaya, Julianna: Pantomime - excellent
Matthew: scene writing - excellent
Angelina: monologue - excellent
Monica: monologue - excellent
Shera: set design - superior
Shera: costume design - superior

Congratulations to all!
Mrs. Foley
Updated Mass Schedule
Details

Published: Friday, 10 February 2017 08:56
Written by Administrator
We have an updated Mass Schedule for the rest of 2017. All Masses begin at 8:30 unless noted otherwise. Please see below:
February 15, 2017 (Wed)
February 23, 2017 (Thurs)
March 1, 2017 (Ash Wednesday)
March 9, 2017 (Thurs)
March 16, 2017 (Thurs)
March 23, 2017 (Thurs)
March 30, 2017 (Thurs)
April 6, 2017 (Thurs)
April 13, 2017 (Thurs)
April 27, 2017 (Thurs)
May 4, 2017 (Thurs)
May 10, 2017 (Wed)
May 17, 2017 (Wed, Kindergarten Graduation)
May 25, 2017 (Thurs)
May 31, 2017 (Wed, last day of school)