Coronavirus Information
COVID Reopening Plan
St. Joseph School Reopening Plan - English
Plan de Reaperatura de la Escuela San Jose - Español
New Start Date and Intent 7/17
Hello St. Joseph Families/Hola familias de San José,
I pray this message finds you well. Due to the increase of covid cases in our area, Bishop Parkes has decided to delay the start of school by two weeks. Our new start date for school is August 24, 2020. Please see the attached letter from Bishop Parkes. An updated calendar will be sent soon.
Also, attached is an intent form. This form is for the fall semester of the school year. All St. Joseph students will have the choice to attend school face to face or participate in our online distance learning program. Please complete the form by July 27, 2020 so that we may better plan.
Rezo para que este mensaje se encuentre bien. Debido al aumento de casos contagiosos en nuestra área, el obispo Parkes ha decidido retrasar el inicio de clases dos semanas más . Nuestra nueva fecha de inicio de clases es el 24 de agosto del 2020. Consulte la carta adjunta del obispo Parkes. Pronto se enviará un calendario actualizado.
Además, se adjunta una forma de intención. Este formulario es para el semestre de otoño del año escolar. Todos los estudiantes de St. Joseph tendrán la opción de asistir a la escuela cara a cara o participar en nuestro programa de aprendizaje a distancia en línea. Complete el formulario antes del 27 de julio del 2020 para que podamos planificar mejor.
Please know that you are in my prayers, be safe, Por favor, sé que estás en mis oraciones, mantente a salvo,
Mrs. Budd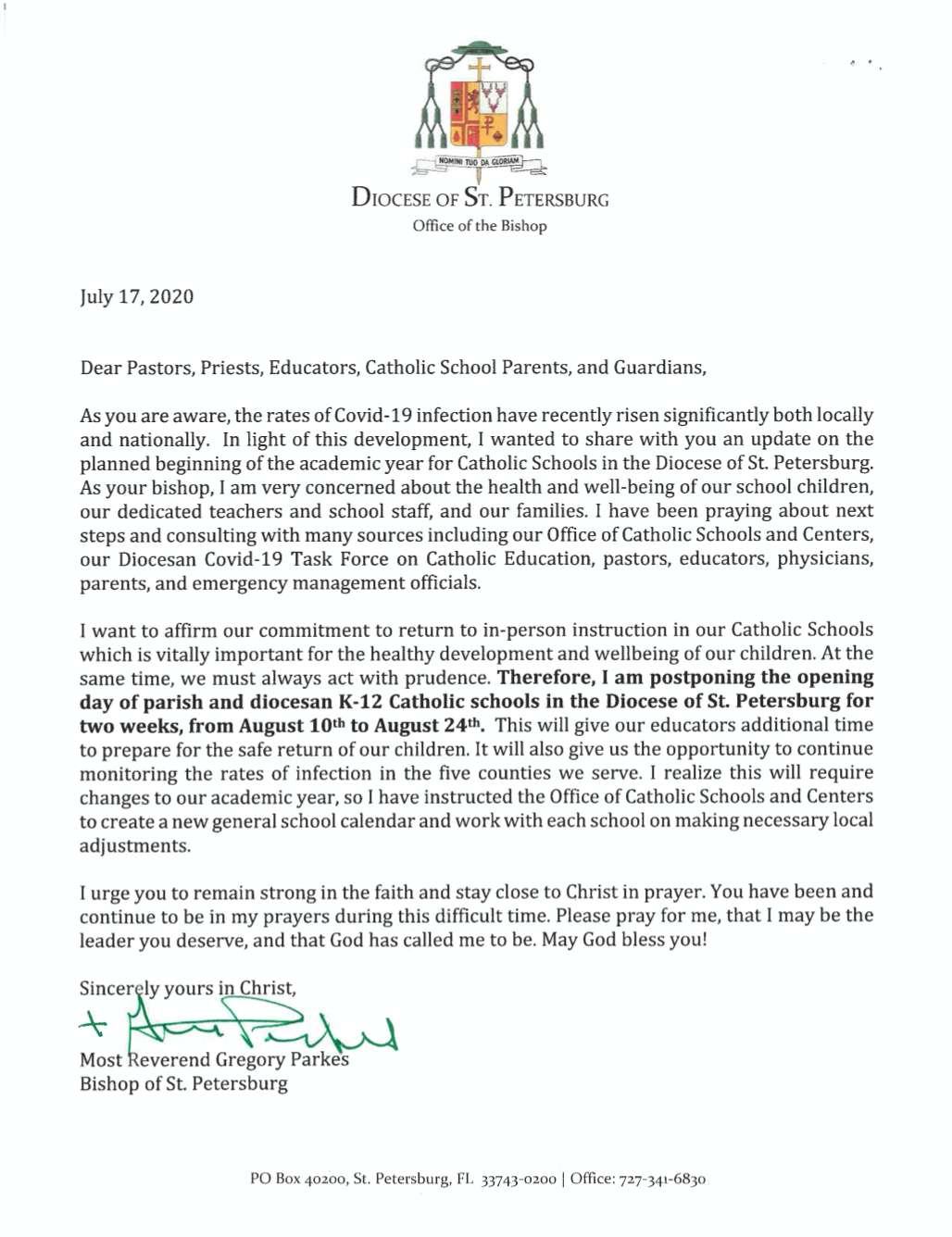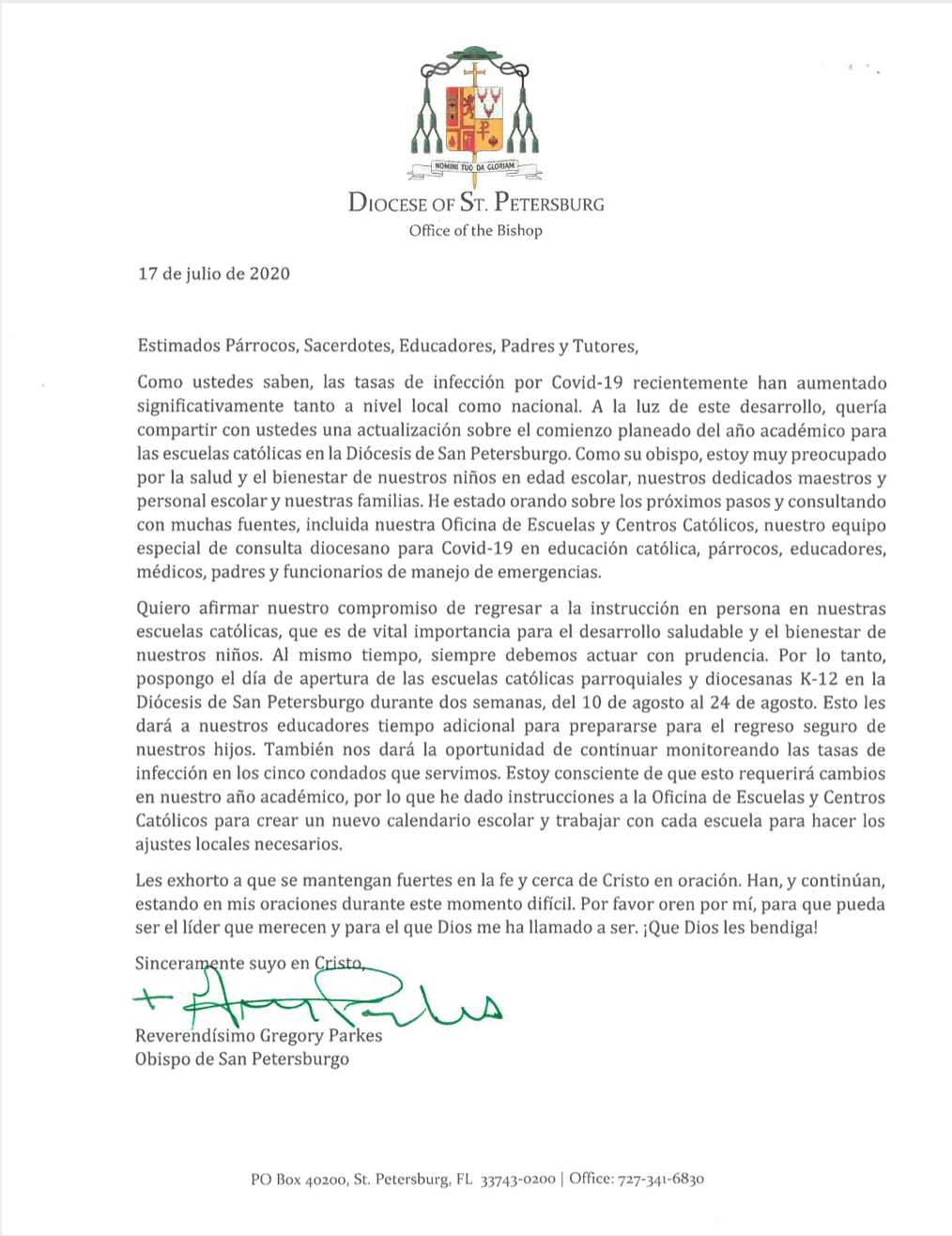 COVID Task Force 2020 Update #1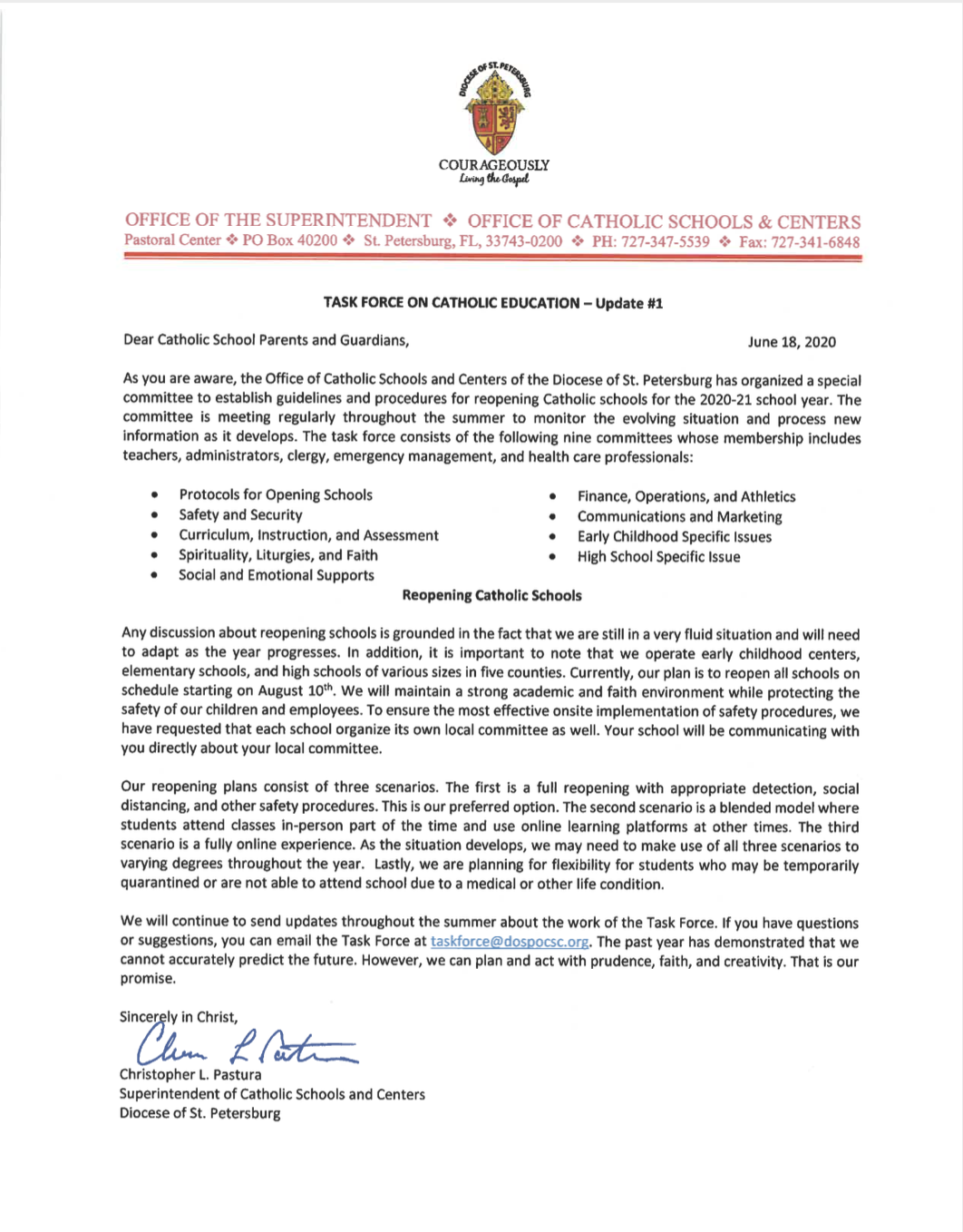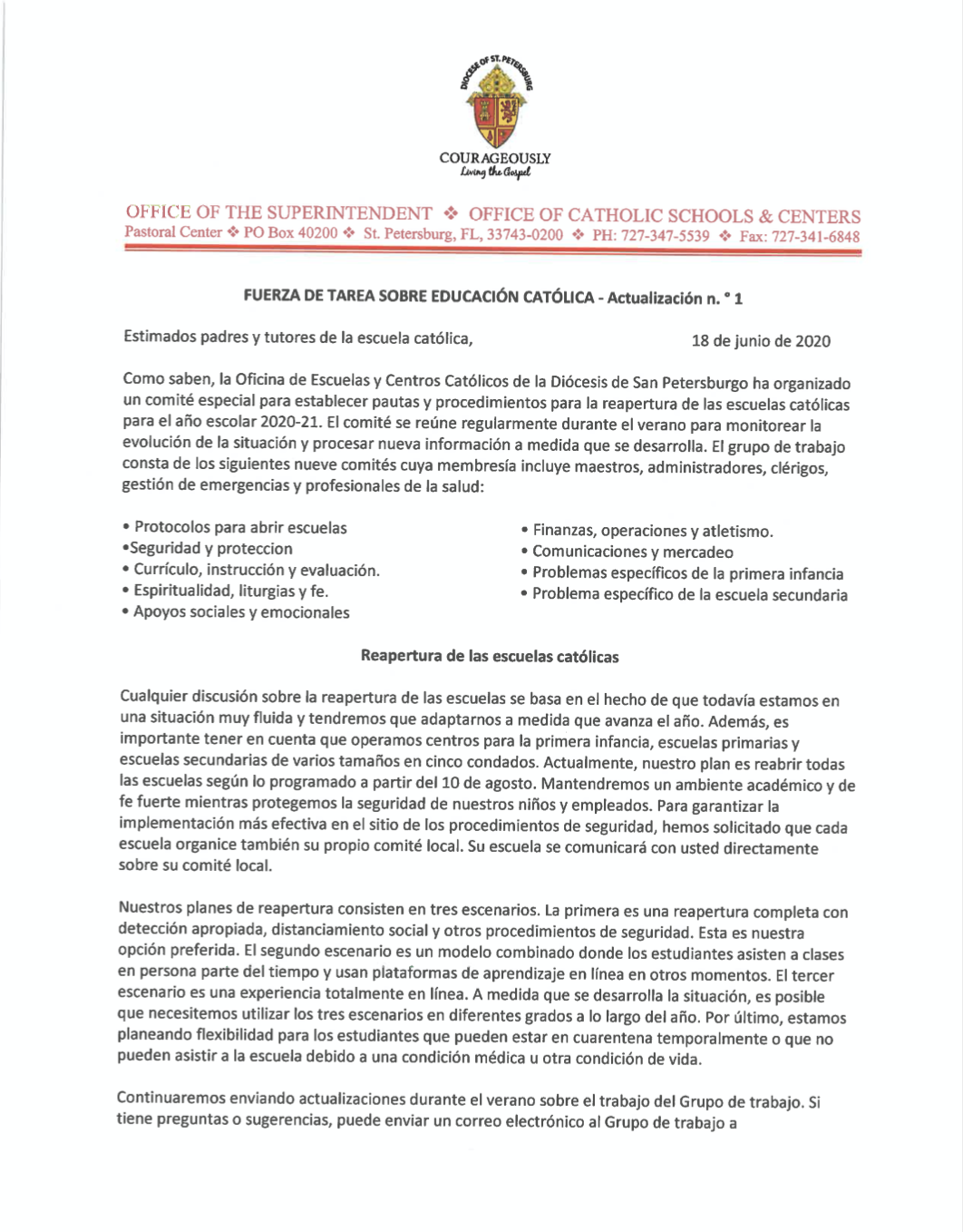 Interim Grading Plan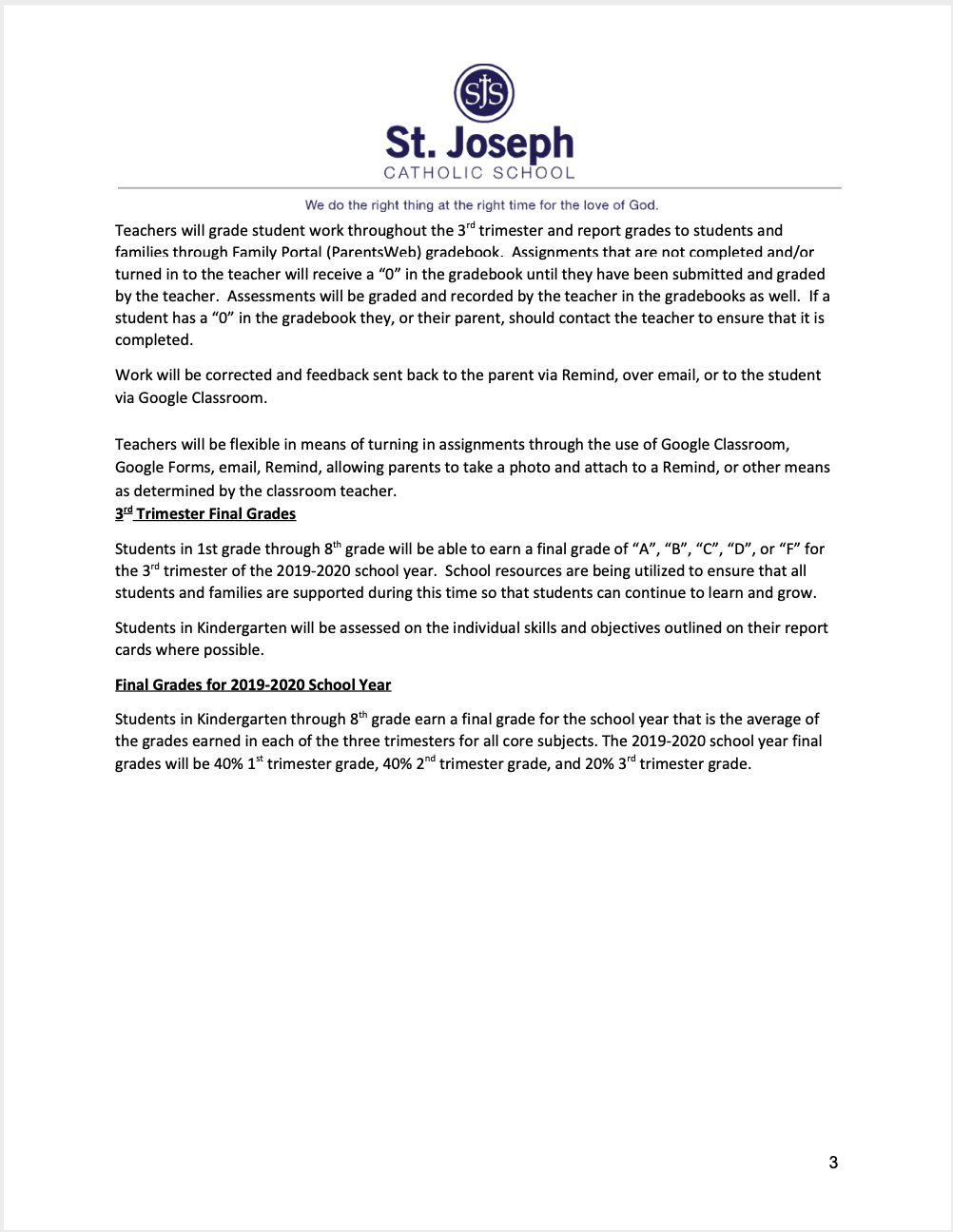 Superintendent Letter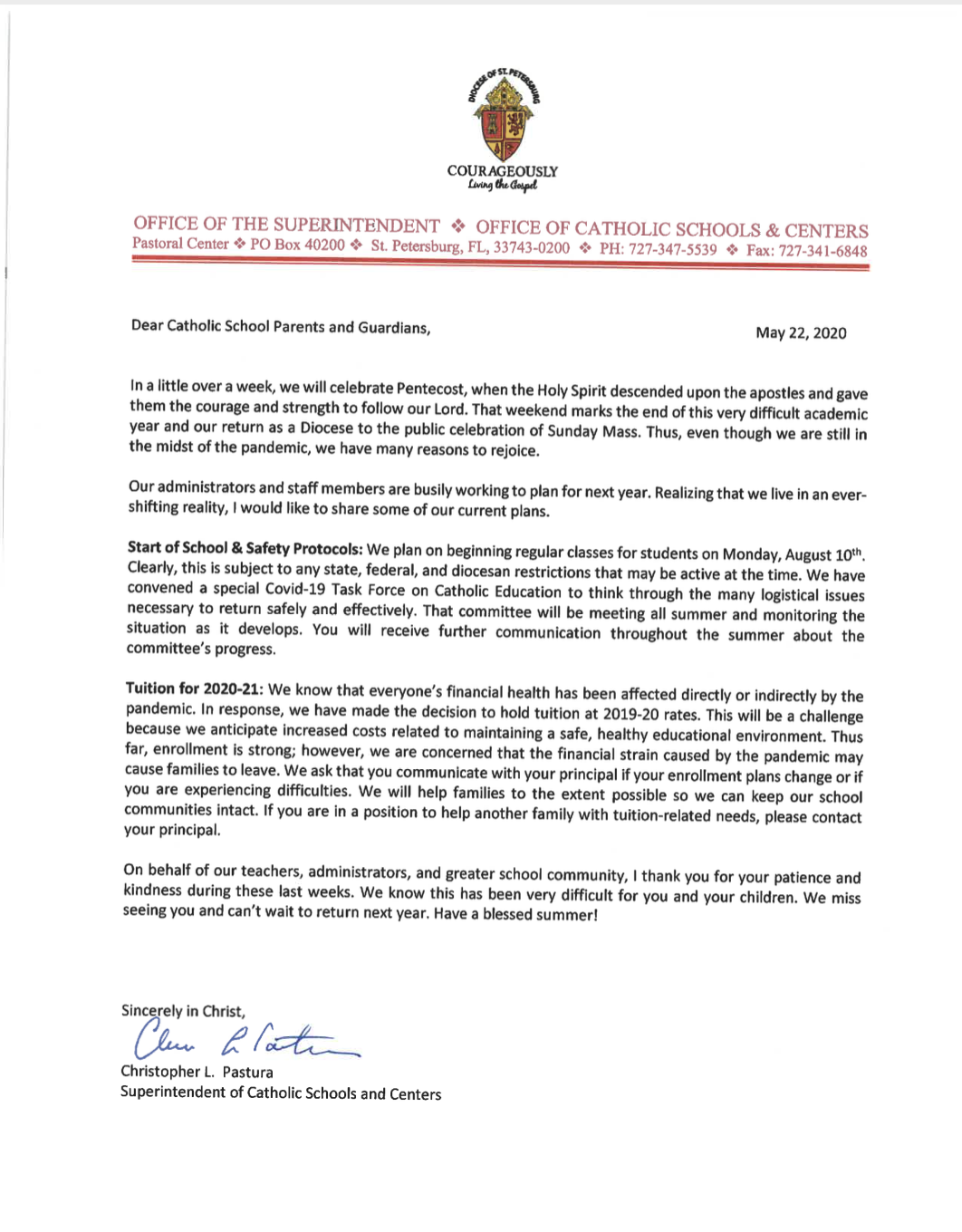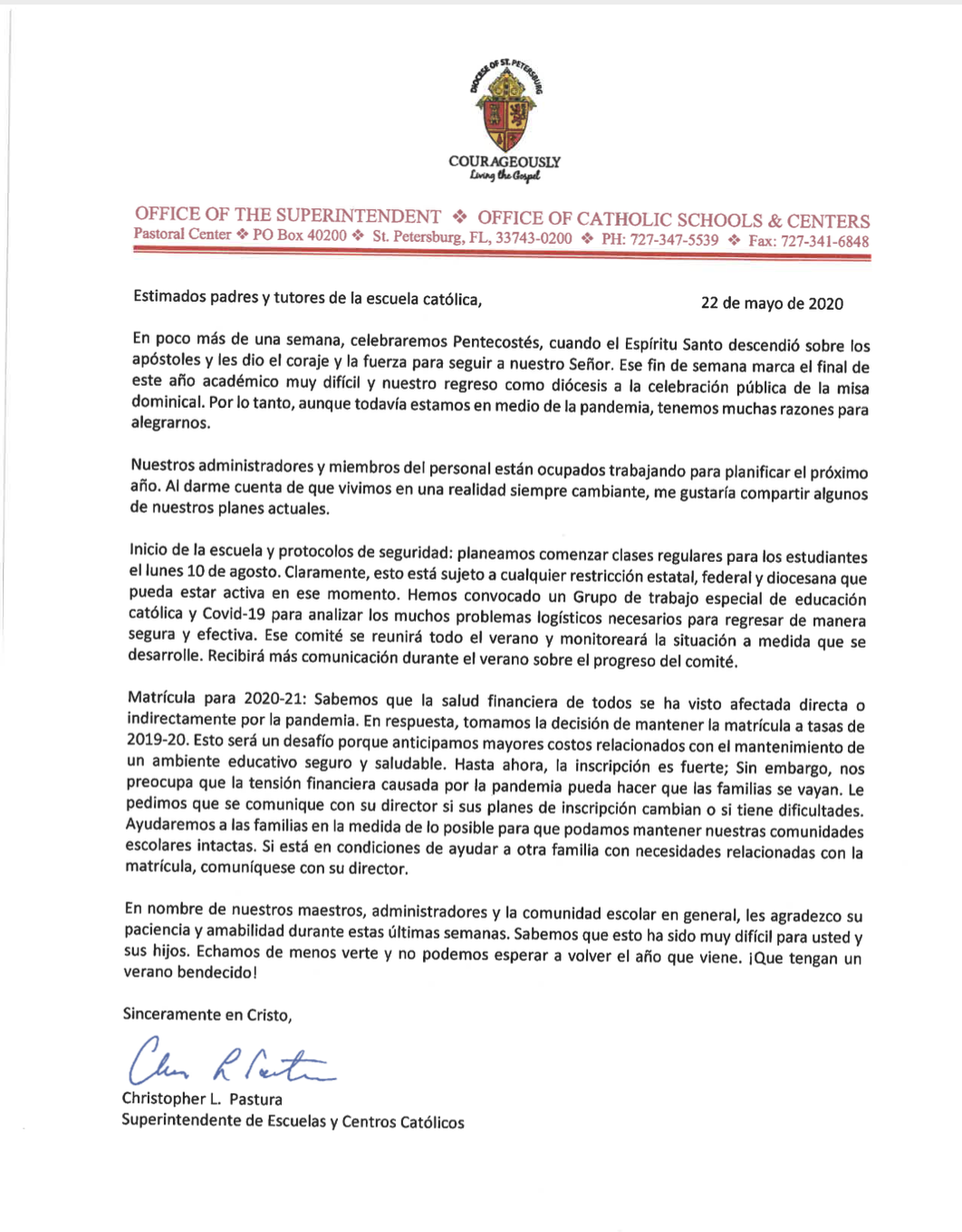 Bishop Statement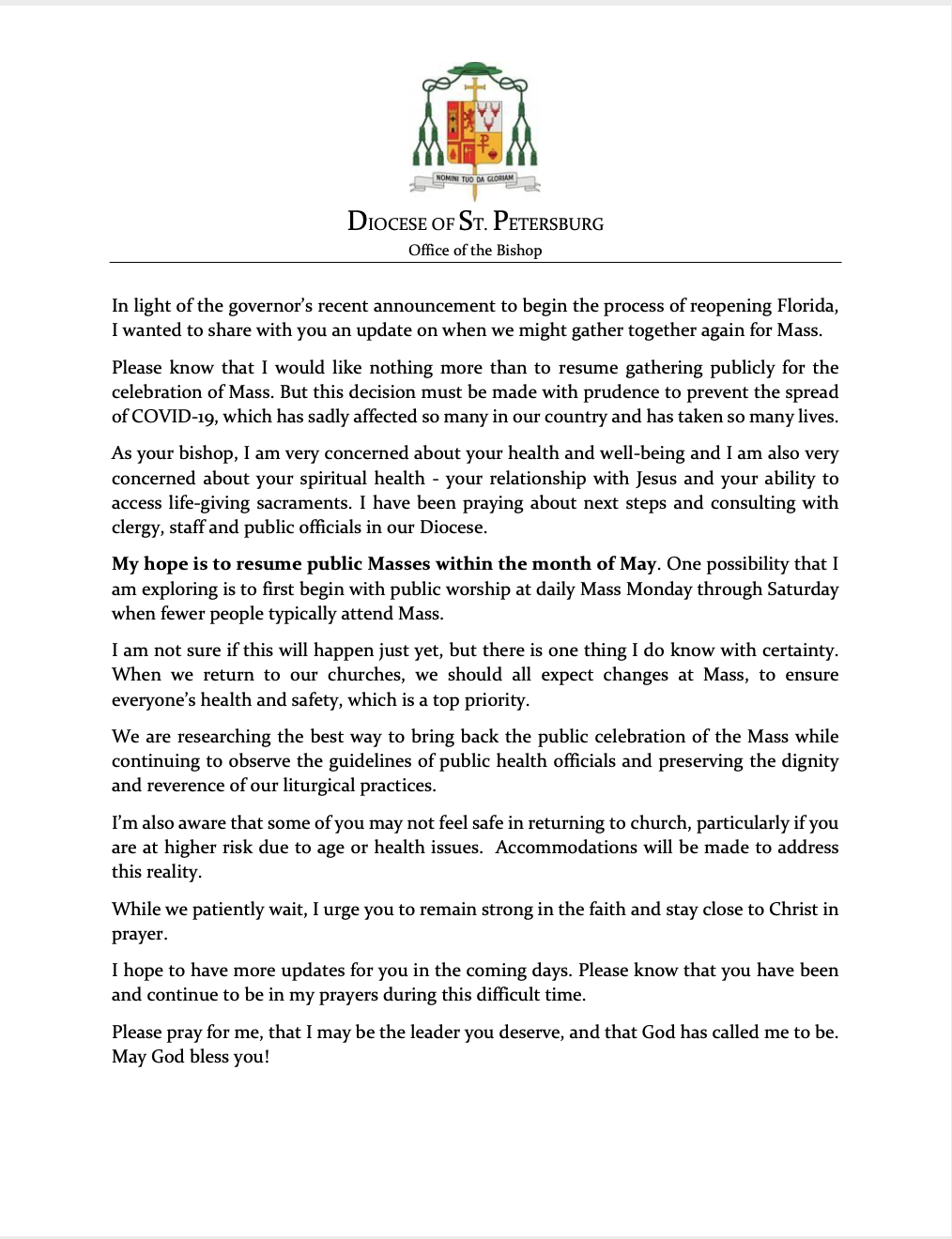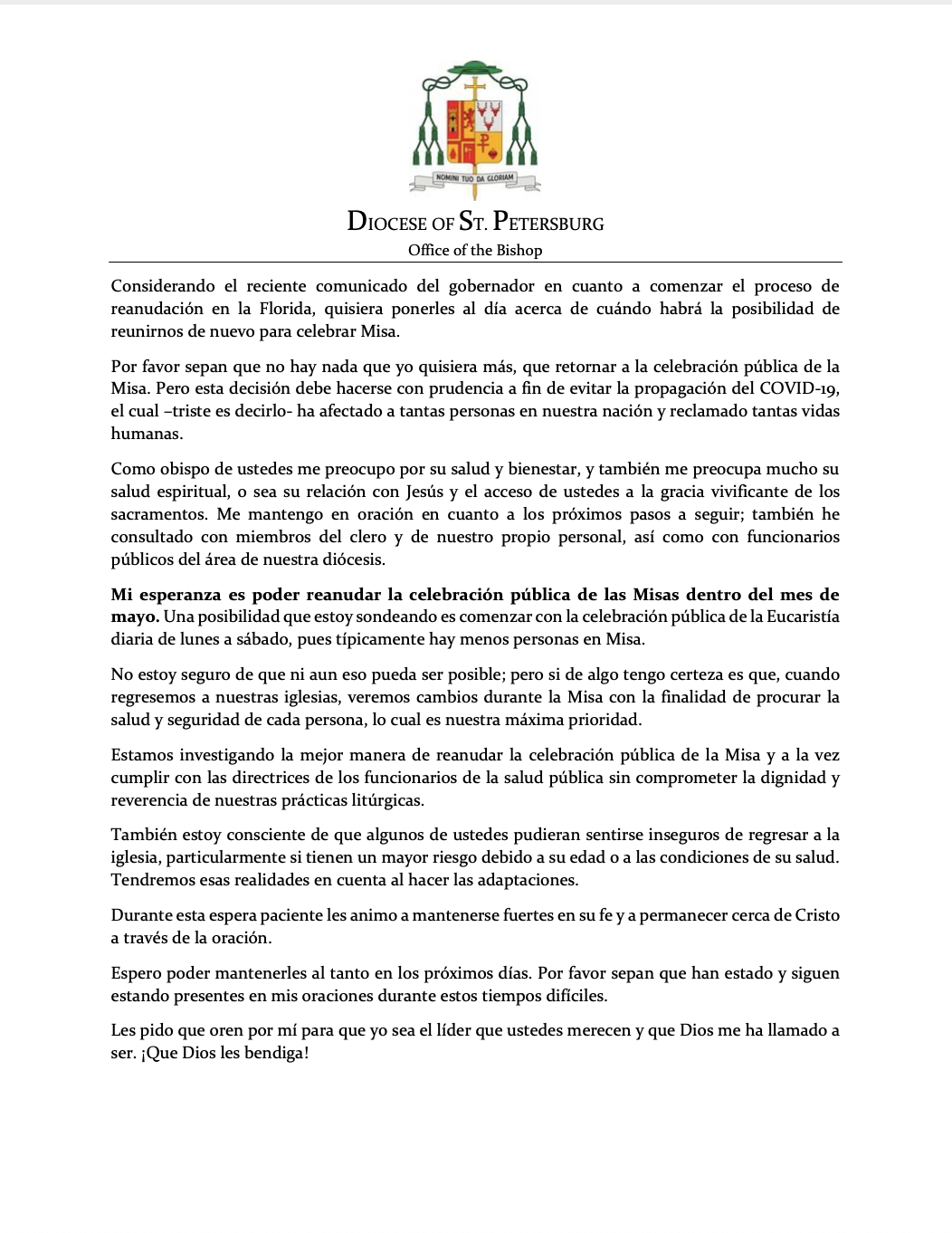 COVID Update April 24
Dear St. Joseph Families/Estimadas familias de St. Joseph,
I pray you and your family are safe and healthy. Your patience and understanding during this time of drastic changes has been greatly appreciated. I have been inspired by the flexibility and resilience of the students, parents, teachers, and staff during these trying times.
Sadly, due to the coronavirus pandemic we will be unable to return to school for the remainder of the school year. Our teachers will continue to provide distance online learning until May 28th, our last day of school. Our goal is to provide continuous educational opportunities and practice for students while school is closed but also to eliminate as much stress as feasibly possible for the St. Joseph families.
Attached is a letter from Chris Pastura, Superintendent of the Diocese of St. Petersburg.
I look forward to next school year when we can all be together. Until then, I will see you on Zoom.

Rezo para que usted y su familia estén sanos y salvos. Su paciencia y comprensión durante este tiempo de cambios drásticos han sido muy apreciados. Me han inspirado la flexibilidad y la resistencia de los estudiantes, padres, maestros y personal durante estos tiempos difíciles.
Lamentablemente, debido a la pandemia de coronavirus, no podremos regresar a la escuela por el resto del año escolar. Nuestros maestros / maestras continuarán brindando aprendizaje a distancia en línea hasta el 28 de mayo, nuestro último día de clases. Nuestro objetivo es proporcionar oportunidades educativas y prácticas continuas para los estudiantes mientras la escuela está cerrada, pero también eliminar la mayor cantidad de estrés posible para las familias de St. Joseph.
Se adjunta una carta de Chris Pastura, Superintendente de la Diócesis de San Petersburgo.
Espero con ansias el próximo año escolar cuando podamos estar todos juntos. Hasta entonces, te veré en Zoom.
May God bless you and keep you safe/ Que Dios te bendiga y te mantenga a salvo,
Mrs. Brenda Budd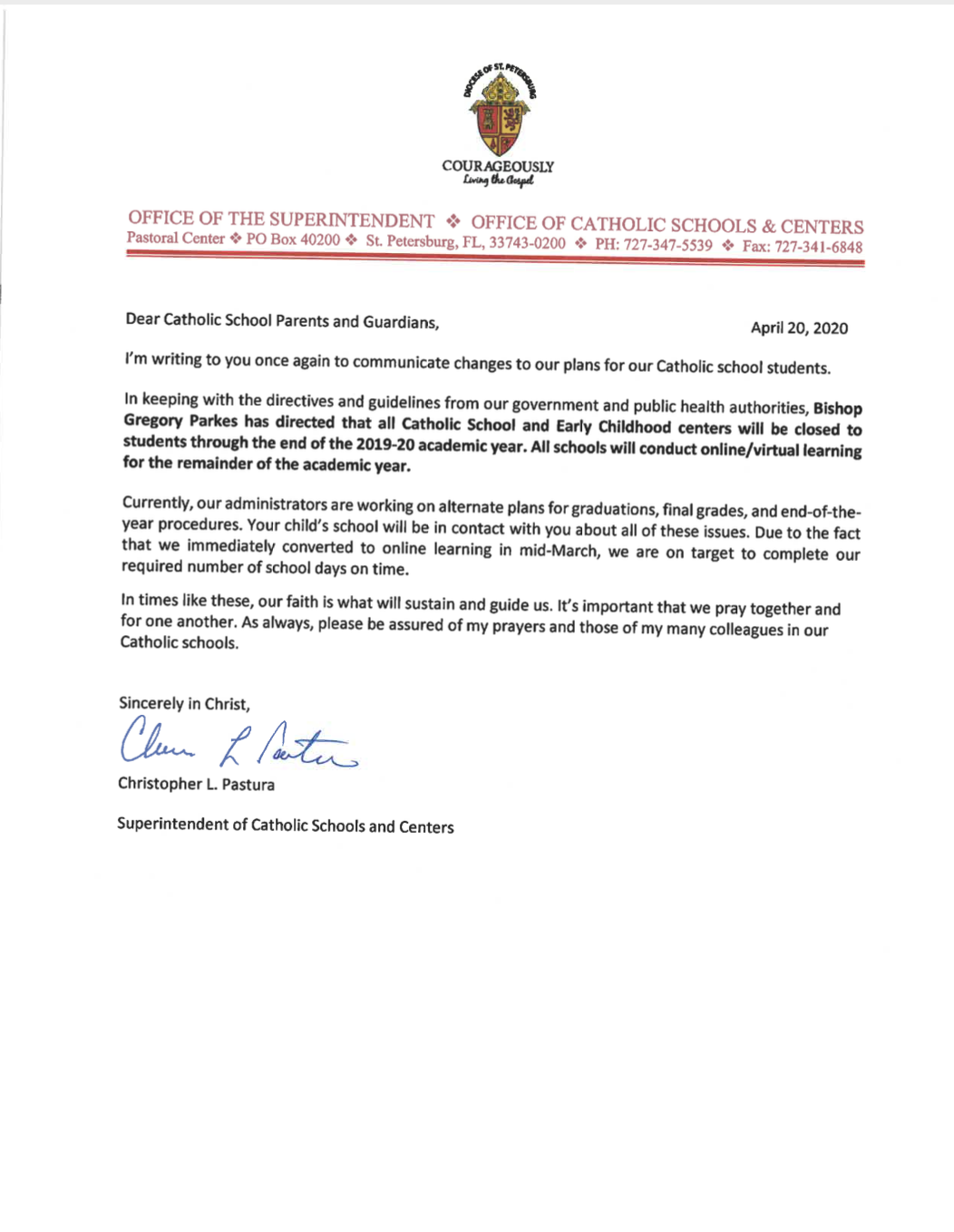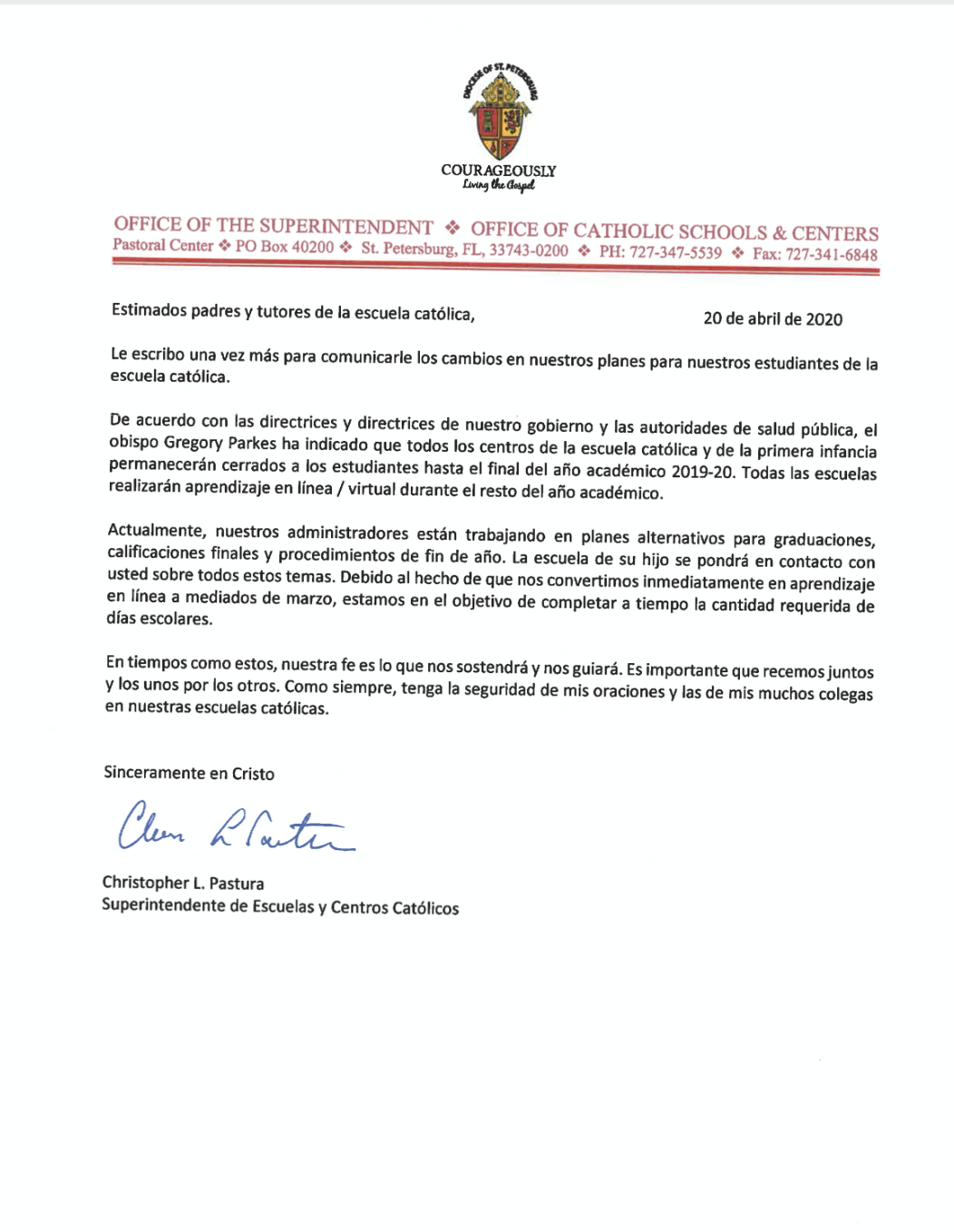 Risse Brothers Update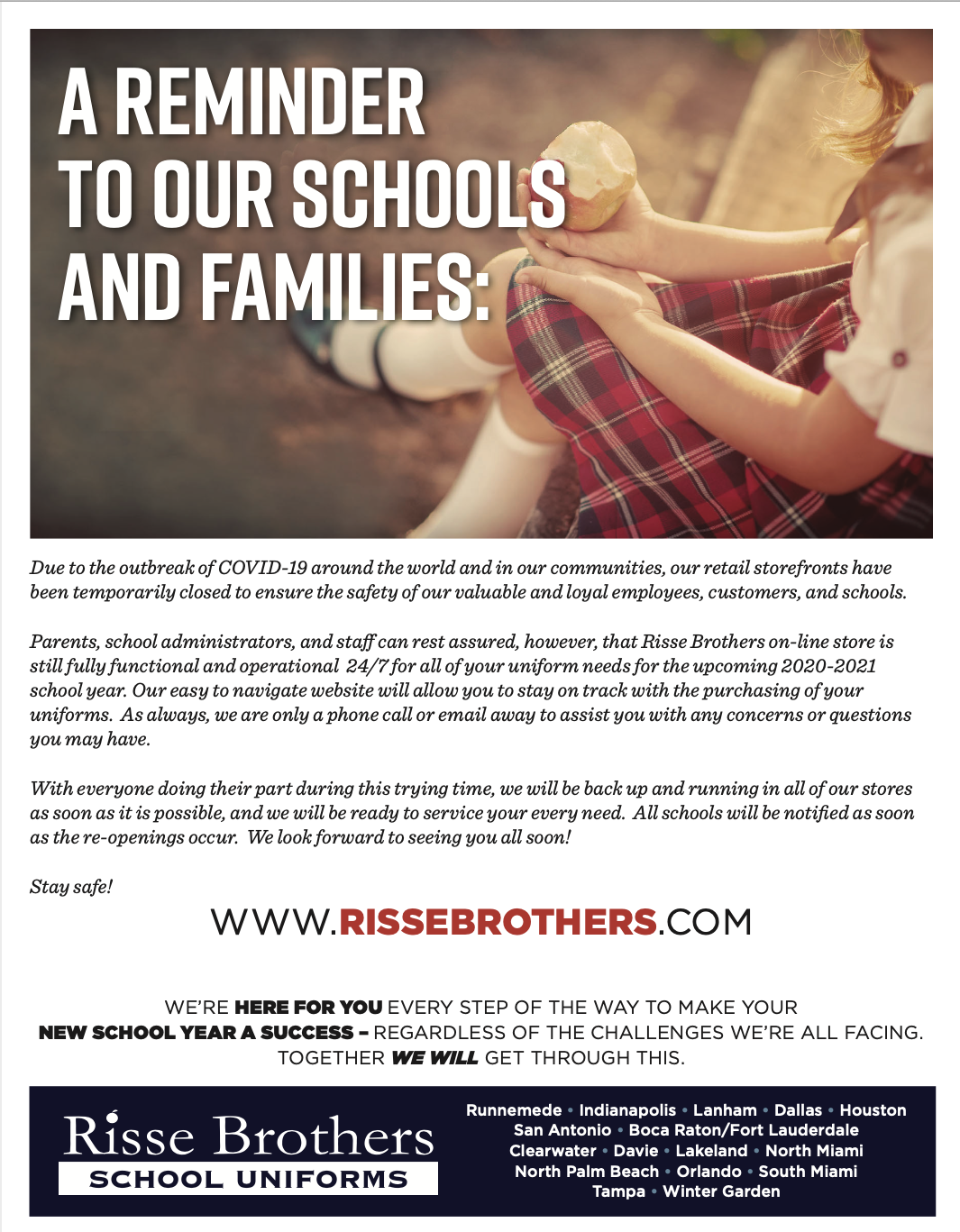 COVID Face Coverings
The Center for Disease Control has recommended all Americans wear face masks when in public and unable to stay six feet or more away from each other. Included is some information on face covering and how to make your own at home.
El Centro para el Control de Enfermedades ha recomendado que todos los estadounidenses usen máscaras faciales cuando estén en público y no puedan mantenerse a seis pies o más de distancia el uno del otro. Se incluye información sobre cómo cubrirse la cara y cómo hacerla en casa.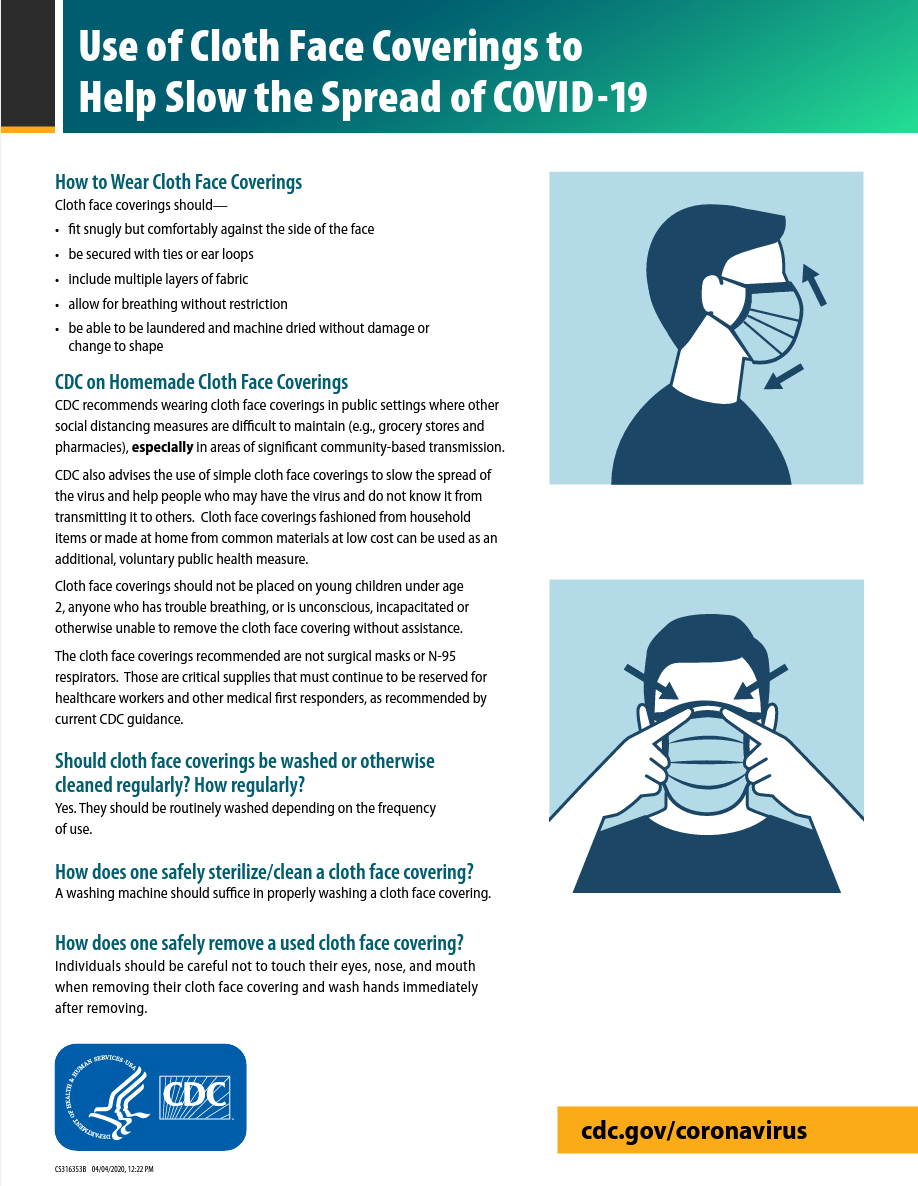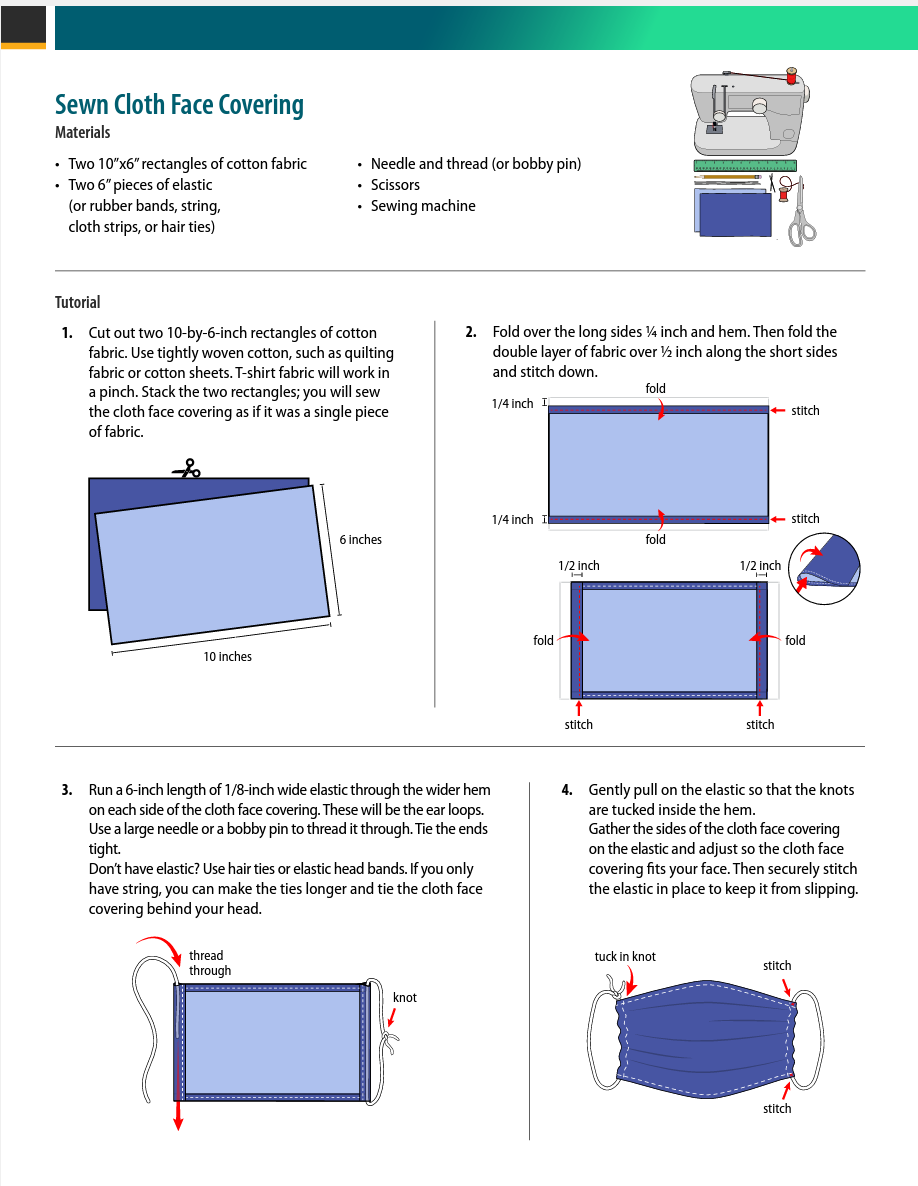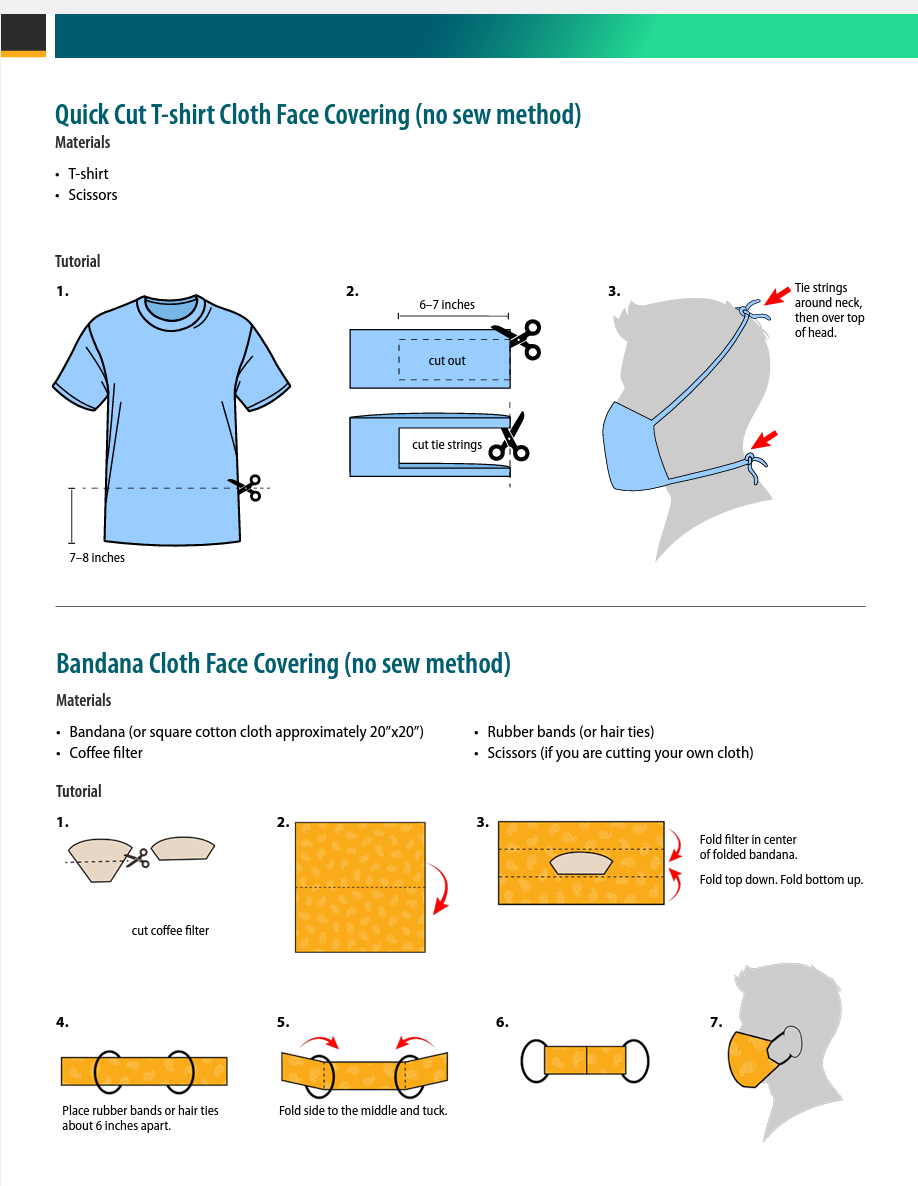 COVID Update April 3
Per order of Bishop Parkes, in an abundance of caution for the health and safety of our students due to covid-19, St. Joseph will now be closed until May 1, 2020.
We will continue with virtual learning with your teachers. We will communicate with you about days after May 1 when we have guidance from the diocese.
This is not due to any sickness. There have been zero known diagnoses at St. Joseph. This is a precaution.
Recently Governor Desantis has issued a stay at home order that is in effect until April 30th. Therefore we will continue to provide our education to students via distance and virtual classes. Please see the attached letter from the Office of Schools and Centers. You and your families continue to be in my heart and in my prayers. Stay safe and healthy!
Por orden del obispo Parkes, con abundante precaución por la salud y seguridad de nuestros estudiantes debido a covid-19, St. Joseph estará cerrado hasta el 1 de mayo de 2020.
Continuaremos con el aprendizaje virtual con sus maestros. Nos comunicaremos con usted unos días después del 1 de mayo cuando tengamos orientación de la diócesis.
Esto no se debe a ninguna enfermedad. Ha habido cero diagnósticos conocidos en St. Joseph. Esta es una precaución.
Recientemente, el gobernador Desantis emitió una orden de permanencia en el hogar que está vigente hasta el 30 de abril. Por lo tanto, continuaremos brindando nuestra educación a los estudiantes a través de clases virtuales y a distancia. Consulte la carta adjunta de la Oficina de Escuelas y Centros. Usted y sus familias continúan estando en mi corazón y en mis oraciones. ¡Mantente seguro y saludable!
Please see below attachments/ Por favor, vea los archivos adjuntos a continuación.